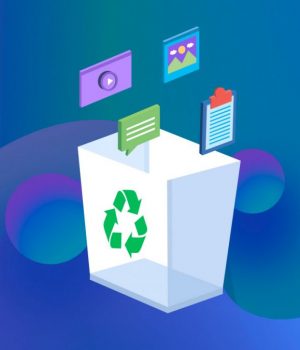 Introduction
What is the first thing you do when you need some extra storage? Most of you will delete what is inside the recycle bin. Recycle bin is the storage space where all the deleted files and folders are stored. 
This feature of the system helps to store deleted data for a limited period before permanently deleting it. In addition, it allows the user to use a recycle bin to recover data if needed. But, will you be able to recover data from an emptied recycle bin?
Well, that is what we are here for. Today, we will look into iBoysoft Data Recovery for Windows. It is a third-party data recovery tool that allows the user to recover data even after being deleted from the recycle bin.
iBoysoft Data Recovery for Windows Software
The more we rely on digital data, the more we are exposing it to data security risk. Even one simple mistake can make you lose all your data. When such a scenario occurs, there is one effective solution, taking help from third-party software tools. One such tool is iBoysoft data recovery software.
iBoysoft Data Recovery for Windows has been a prominent data recovery tool in the industry. It is because of the simple-to-use interface that even new users can comfortably use it, along with its powerful functions.
The key feature of this software is that it covers all the data loss scenarios, including recovering data from emptied recycle bins.
Features
Support more than 1000+file types.

Recover data from the formatted drive.

Support dual scanning mode, quick scan and deep scan.

Powerful pre-recovery preview function.
Recover Data from Recycle Bin
Recovering data from an emptied recycle bin is not as easy as you expect. However, the accuracy of the recovery process increases if you take immediate action. Therefore, for the purpose of this article, we have decided to use iBoysoft Data Recovery for Windows. 
Follow the steps given below for effective data recovery.
Step 1: Download & Install iBoysoft
If you do not have iBoysoft data recovery software in your system, the forest step would be to download and install it in your system. While installing the software, avoid installing it in the same drive where all your recycle bin data is stored.
Launch the software to enter the software interface. There you will be able to see three modules, including regular data recovery, RAW, and BitLocker data recovery. You can choose what you expect. 
Step 2: Choose the Location & Start Scanning
iBoysoft's main window will show you all the available files, folders, and disks for recovery. Search the exact folder or partition where recycle bin data is stored. Once you find the relevant folder, initiate the scanning process. 
iBoysoft software comes with two modes of scanning process.
Quick scan

– It is effective to recover data that has deleted.

Deep scan

– Helps the user recover data that has been lost.
Step 3: Preview & Recover
Once the software finishes with the scanning process, you will get the result on your screen. Start previewing the data to make sure you are selecting the right data for recovery. When you find the data you want to recover, tick the checkbox and select Recover.
When the recovery process starts, the system will ask you to select a location for the recovery. Select a location different from where the recycle bin data has been stored.
Prevent the Loss of Important Data
"Safety is better than cure"- This proverb best defines data security. If you are dealing with sensitive data and want to lose them, you must take the necessary measures to keep it secure. One of the best methods to do is data backups.
There is nothing more important when it comes to offering data security than regular data backups. There are many free solutions that can help back up your data and restore it when needed.
Follow Techiemag for more!