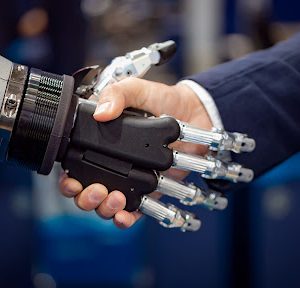 The importance of Artificial Intelligence is proven on a daily basis for numerous industries. As AIs are capable of handling huge amounts of data in a shorter time, they are being used by numerous companies across different industries around the world. 
In addition to this, the volume of data that is generated around the world is increasing very fast as well. According to research done by a firm called IDC, by 2025, the data sphere around the world will reach as much as 175 zettabytes. This will be an increase of as much as 430 percent compared to 2018. Every single company or industry around the world that wishes to use the amount of data stored basically has no other way but to use the power of AIs. 
Better adoption of AI technologies will give industries that use them an additional edge compared to others. Due to the importance of AI for many industries, AI companies are becoming very popular and frequently discussed by many. 
In fact, they have become very popular among traders as well. There are many people around the world who decide to invest in AI stocks. But, why does this happen? 
One of the main reasons for the popularity of AI stocks is that most of them tend to have a higher future growth potential, which is something that many traders are looking for. In addition, there also are many AI company stocks to buy which gives traders and investors the ability to choose from many available investment options.
Thanks to the higher adoption of AIs, many parts of everyday lives around the world are becoming easier. These technologies are making it possible for people globally to make almost anything a lot easier to do. AIs are capable of analyzing huge amounts of data, which is very important for many industries.
Trading and AIs
Among the industries using AIs are different types of government organizations, NGOs, healthcare facilities, monitoring companies, and many others. Simply put, AIs can be useful for any industry that needs high-level analysis. 
For example, recently, AIs have become a very important part of different trading markets. Thanks to the capabilities of AIs and their abilities to analyze huge amounts of data, stock traders' earnings have increased drastically. 
Because of this, Artificial Intelligence tools have become very frequently used among investors and traders around the world in numerous trading markets. As you might already know, when trading, there is always a huge amount of data and information that should be analyzed by traders before making any moves in the markets. 
Sometimes, it is getting very hard for traders to follow and analyze all the different data in the market in a short time. In this situation, many of them are using special AIs called trading robots, that are capable of analyzing huge amounts of data in a very short time. These AIs provide traders with signals about the possible directions that the market could take. As a result, traders have a higher chance of generating better income in the trading markets. 
AI and Advancing Automation
There are many aspects of AIs that can be used by companies around the world. One of the biggest advantages that it has is that it can produce a very high level of productivity for organizations by handling repetitive tasks. AIs are capable of going through such tasks in a much easier and efficient manner. 
In addition, the chance for human error is also reduced to virtually zero, making AIs even more superior. As a result, the employees are focused more on the higher-value functions, which ends up increasing the efficiency of the whole company. Another huge advantage is that it is capable of providing human workers with additional tools to do their jobs better. 
Thanks to AIs, people can simply interact with the information in an easier way. For example, AIs can be used in medicine to help doctors make quicker and more accurate diagnoses. It can use the data of patients and quickly provide it to the doctors, cutting the time needed for making a diagnosis. 
The Future of AI
Simply put, Artificial Intelligence is already impacting the future of every industry and every human being around the world. AIs have become the main drivers of emerging technologies like big data, robotics, IoT, and many others. In the future, AIs are going to become drivers of many other innovations that can help numerous different industries to further develop and become more efficient.
AIs have already changed many things around us, they have made the boring, repetitive jobs a lot easier to do. What's more, these tasks are being done in a more efficient and error-free way. Because of this, it should not come as a surprise that the adoption of AI is only going to increase in the coming decades, helping different industries to further develop. 
Follow Techiemag for more!