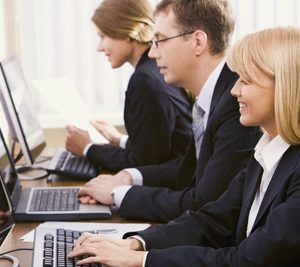 Technology has changed almost every aspect of our day-to-day lives. As the world continues to evolve with new tools and hardware, we're discovering convenient ways to communicate, produce new ideas, and even work together.
Easier Access
In the past, if you wanted any hope of trading in stocks and securities, you would need access to institutional accounts. Only the biggest brands could access the market, and they used professional brokers to manage positions on their behalf. Today, all kinds of people can get involved in the industry thanks to internet connections and online accounts. Anyone with access to the internet can start making money in a variety of different ways. There are even tools out there to help you get started, like the essential options trading guide, and apps that support you in watching your money grow. There are even accounts on brokerage sites for beginners that allow you to practice using your money in different markets before you expose yourself to any risk. 
Faster Growth
Aside from making it easier for more people to buy and sell opportunities, the tech landscape is also helping us to manage our positions more rapidly too. Years ago, it used to take days for a transaction to complete. However, today, you can quickly access multiple positions within the same day, without having to spend a fortune on fees. For those just getting started, there are even apps available so you can handle purchasing and selling different securities when you're on the move. These apps are great for younger beginners who don't want to spend a lot. You can learn how to use the tools online, and even access specialist tools from your bank that allow you to put smaller amounts of cash away towards investment chances. 
Advancements in the tech landscape are even changing the trading environment, helping people from all backgrounds to discover new types of investments. The development of technology can both give you access to trading solutions like never before and help you to maintain an edge in the cutthroat industry. Here are just three of the most significant ways that IT and the digital transformation landscape is changing the way we trade.
New Kinds of Investing
Finally, technology has fundamentally changed the way that many of us tap into opportunities for financial growth. Rather than just spending on things like stocks and securities, you can now make tiny miniature investments through banking apps on your phone, or spend your cash on new kinds of assets, like cryptocurrencies that exist in the digital world. There are crowdsourcing opportunities where you can invest in businesses in new ways and earn benefits similar to how you might get started with stocks. The variety of new opportunities in the trading landscape makes it much easier for people from different backgrounds to discover what trading is all about. You can build new talents at a time and pace that suits you, and even gradually move into more full-time trading environments. The opportunities are endless.
Follow Techiemag for more informative articles.