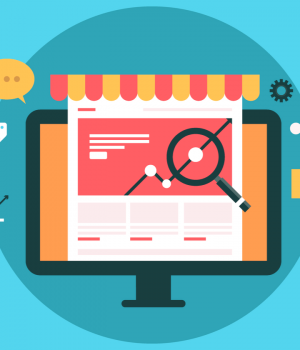 Give Your eCommerce Sales A Boost With These Web Design Secrets
Having an eCommerce store opens up the opportunity to sell your products to customers worldwide without the overheads that come with a brick-and-mortar store.
But, while an online store can help you reach a wider audience, you'll need to plan out your website carefully to ensure you show the right products to the right people and improve your site's usability overall.
Essentially, your eCommerce website acts as your storefront, drawing in curious "window shoppers" and persuading them to come in, look around, and ultimately make a transaction.
Your website design has a massive impact on how long a customer stays on your site and how many sales your business makes. Everything from how you display social proof to the images you use can make a big difference in your conversion rate.
ECommerce companies must employ the right tactics to ensure your customers want to take a look around your website and make a purchase.
Whether you are just starting to design a website for your small business or looking to shake things up to improve your sales, here are five tricks you can use to set up your eCommerce site to boost your conversions today!
Another thing that your online store must have is a search plugin. Search plugins are vital to any online store as it allows your customers to find what product they are looking for quickly.
Please take note, though, that most customers are searching for their desired product through typing.Thus, the search plugin that you will get must have auto-correct or auto-suggest features.
These features help the customer find what they are searching for and the alternatives of the product they are interested in just in case the product they want is no longer available.
You can explore one of the best e-commerce search plugin, Expertrect's autosuggest feature will keep your customer staying longer in your shop instead of leaving. Also, it helps the customer save time.
Plus, if the search plugin is as advanced as Expertrec Search Plugin, your customers will have options to search the products they want to buy through voice search instead of typing it into the search bar.
Pair this up with Expertec fast results feature, and your customers will love your online store. Your business's conversion rate and sales will grow with Expertect's fast results and technologically advanced search plugin features.
But do not put the search plugin anywhere in your online store. It must be strategically placed where your customer can easily find it.  
1. Showcase Customer Reviews And Testimonials In Prominent Spots
Online shoppers can be highly suspicious, so you need to do everything you can to gain the trust of your visitors and guide them to purchase from your online store. They want to feel confident that they are doing business with a reputable company will be and satisfied with their purchase.
You can display customer reviews across your site to build trust with your customers as they browse your products across your site.
Not only do customer reviews drive long-term growth since they build brand loyalty, but they offer a sense of security to visitors looking to make a transaction on your eCommerce site.
It's essential to do everything you can to collect customer reviews with tools like email follow-ups, surveys, and in-app messaging systems. These collection systems can help your business generate more high-quality customer reviews for you to position on your site.
Simply gathering testimonials and customer reviews isn't enough because you need to position the reviews in a way that earns your website visitors' trust. A few places that you can display testimonials and reviews on your site to help sales include:
Your about us page or website's sidebar
In a carousel on your homepage
Your website's header
Throughout your service pages or shop
As discussed above, there are many ways to display testimonials and reviews on your site to drive conversions. Let's look at a few eCommerce sites that power up their online stores with customer reviews.

Stryker T-Tops does a great job of strategically placing customer reviews in prominent places to help build credibility in their brand and products. Take a look at their boat T-tops category page as an example.
Notice how they offer positive customer reviews just before introducing their full range of products. This shows the reader that other people have been satisfied with their purchases, making new visitors more likely to trust the website.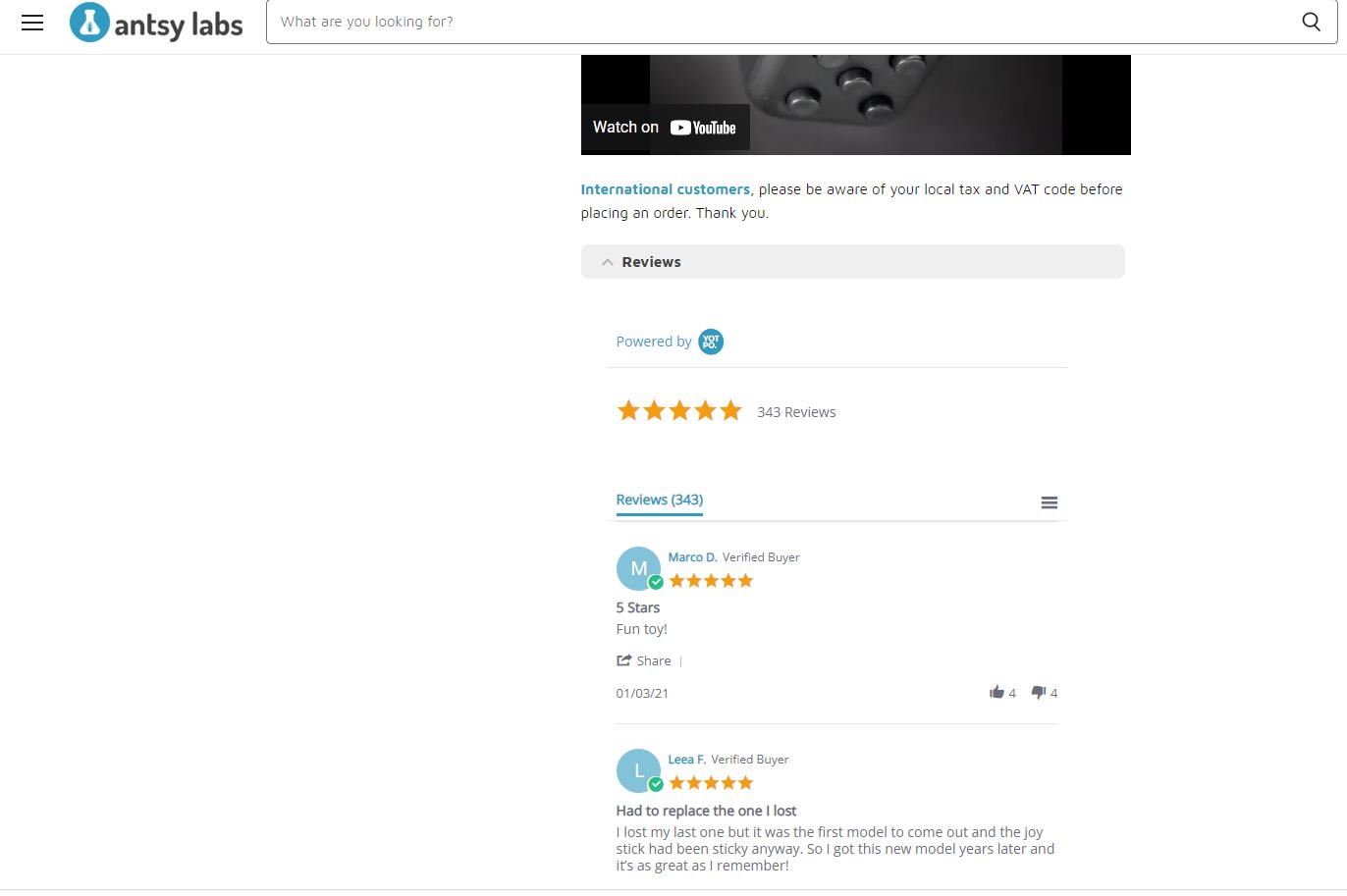 On the other hand, Antsy Labs also displays customer reviews on their category pages, but lists their star ratings and testimonials below their products. This approach can help drive home the quality of the products without requiring their customers to click on additional buttons.
Consider whether you could take a leaf out of these business's books and also add positive reviews to your category or product pages. It can be very helpful for pushing people towards a sale when they're already seriously considering it.
2. Make It Simple For Prospective Customers To Contact You
To have a successful online small business, you need to make it easy for your customers to reach you with questions or concerns that they need you to address before placing an order.
Different types of customer needs require different methods of contact, so you'll want to present several contact options in prominent places so people can get in touch in their preferred way, including via:
Phone call
Live messaging
Email
Help Desk form
When you offer multiple contact options, people can find a method that works for them. For example, someone in a rush may not have time for a live chat or phone call but can send an email or fill out a form asking their question.
On your site, a dedicated "Contact Us" page is the perfect place for customers to ask questions because you can offer lots of options depending on their needs. A successful business knows the needs of its audience and offers a range of options to help its customers achieve their goals.

A perfect example of how website design can support customer communication can be seen on the website of ZURB. The company has a prominent contact button in the upper right-hand corner of the screen, and its contact page offers multiple options for reaching out in a streamlined fashion.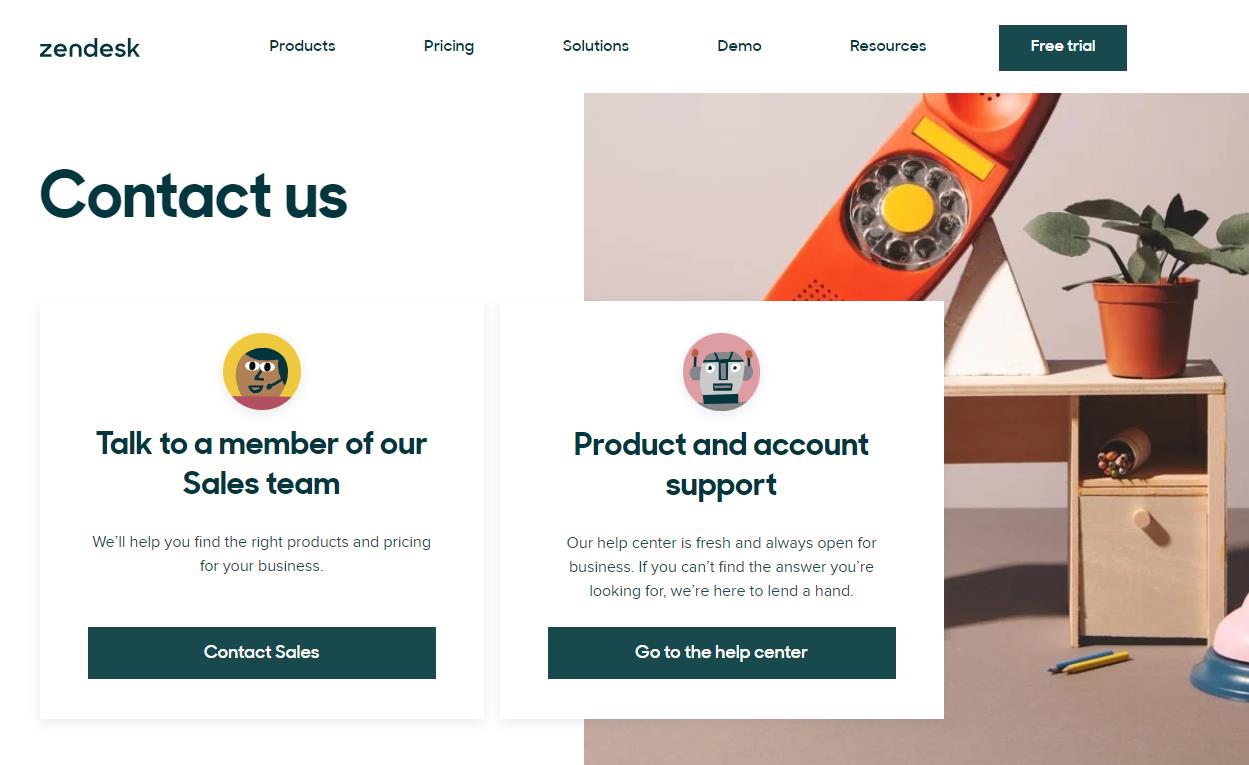 Similarly, the Zendesk website offers clear options to help customers contact the right people based on their needs and a simplified interface to help customers quickly get the help they need. This is sure to push more people towards investing in their services, as people can access the assistance they need quickly and easily.
When designing your contact page, keep your audience in mind to ensure the setup will make reaching out a breeze and offer guidance throughout the process to help your customers get in contact with the proper departments or teams to resolve their issues.
3. Always Use High-Quality And Inspirational Imagery
Your customers are looking for the right solution to their needs, and you can help them envision your products with high-quality and inspirational imagery.
Every online store will need different types of images but, in general, you should choose images that will excite your customers and entice them to buy. These could include:
Photos that demonstrate the best features of your product or service
Pictures of people who are happily interacting with and benefiting from your items
People just like them using your product
Imagery that associates positive emotions with your brand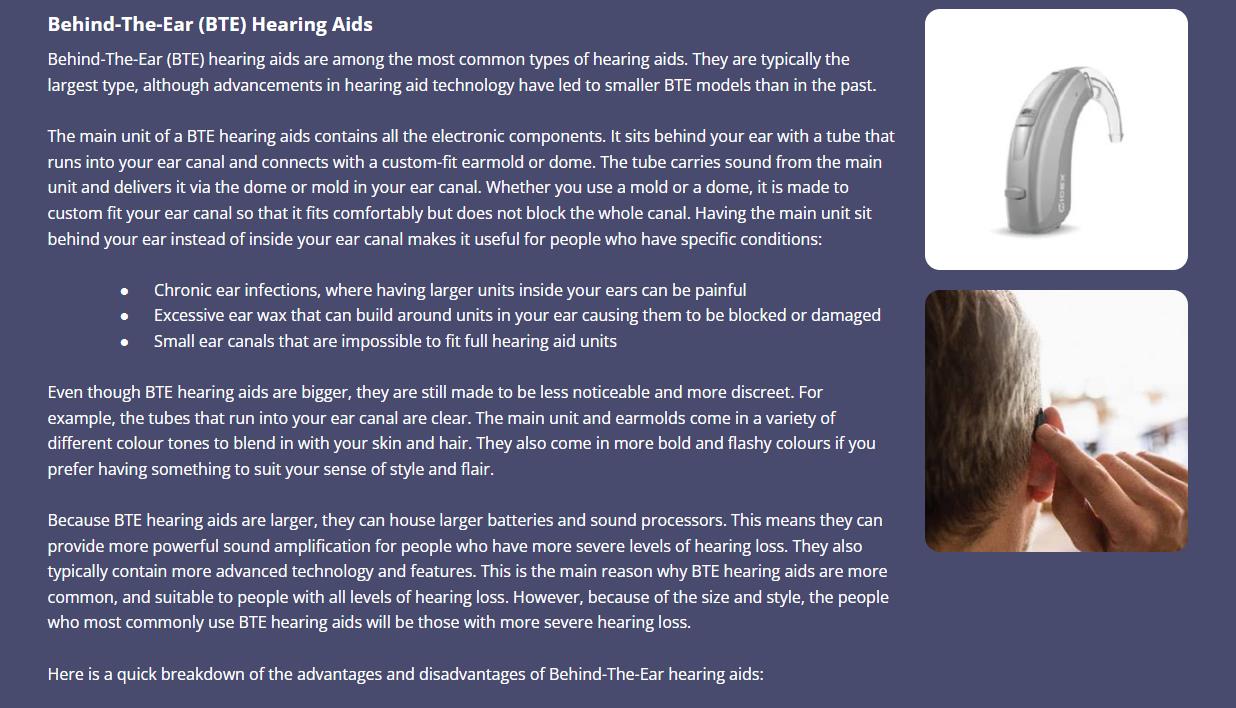 For example, Helix Hearing Care uses high-quality images of users that reflect their target demographic. The models in the image at the top of their hearing aids and solutions page can be seen using their product in a social setting to assure customers that this product can fit into their lifestyles.
Scroll a little further, and you'll see more high-quality images that show users wearing their Invisible Hearing Aid, as well as photos that demonstrate the scale of the product. This will give the users a more comprehensive picture of the product, inspiring action and boosting sales.
When choosing images for your website, think about your target audience and what matters to them. Choose imagery and product photos that will appeal to them and build trust in your eCommerce website.
4. Ensure Your Website's Menu Is Intuitive
Your menu is the first thing that customers see when they reach your site, and it plays a vital role in how customers navigate your site. To boost your website's conversion rate, you need to ensure that you are providing a positive, user-friendly user experience (UX agency) with products and categories laid out based on the needs of your audience.
You'll need to think about how customers consume your content as you customize your menu. Here are a few things to take into consideration as you create a menu for your online store:
| Navigation menu design | Commonly found on | How it helps |
| --- | --- | --- |
| Tabs | | Allows users to focus on the most essential parts of the website. |
| Hamburger menu | | Alerts customers that the navigation options are behind the iconic three line icon. |
| Breadcrumbs | | Much like the famous fairytale, this secondary navigation system shows people where they are on the site. |
When designing your website navigation, use meaningful labels to boost your SEO and offer relevant information to your audience. You may find it surprising that your menu can impact your eCommerce site's SEO, but your word choice matters.
Using clear and descriptive language in page titles is essential for SEO and the user experience. Make sure your pages have H1, H2, and content that clearly describes what each page is about instead of using general language. Descriptive language will help your customers understand what they are reading, and search engines will understand what your content is about to help you rank.

Let's look at a great example of an online store that uses its menu to drive more sales. Kasala, a home furniture company, features an intuitive menu with specific terms that allow users to choose the home area they are looking to furnish.
Additionally, they feature a hamburger menu that opens to a mega menu, which lists all possible navigation points in one place. This type of menu helps potential customers envision the type of furniture they are looking for with images instead of simple text in the menus.
5. Make Sure Your Calls To Action Are Eye-Catching
The primary goal of any eCommerce store is to drive more sales, and a call to action or CTA button can be used on your website and landing pages to guide users towards making a purchase. Here are some examples of CTA buttons that can help you boost conversions:
Free trial sign up button
Add to cart button
Download button
Call today button
View new arrivals button
CTAs help boost the conversion rate of an eCommerce site because they act as a signpost that tells the customer what to do next. It clarifies to potential customers which action should be taken next and removes friction as you move the user through the sales funnel.

Prezi does a great job of including a contrasting blue CTA button in the minimalist design of their landing page. The buttons are centered on attracting attention and clearly state what the user should do next.
Always make sure your CTA buttons are easily seen and not surrounded by design clutter. This helps your sales by allowing your customers to easily see where they need to click to purchase or sign up.
Another excellent example of what great CTA buttons look like comes from the BarkBox website. At the top, users see several call to action buttons directing them to claim an offer, give a gift, or subscribe to the service.

Use clear, direct language to ensure the user knows exactly what the button will help them do — the more straightforward your language, the more of a significant impact you will see on your sales numbers.
To Sum It Up
No matter what products or services your business sells, you need to know the best way to reach your customers. A well-designed website will build trust with your target audience, which in turn will help you make more sales.
It may take some time, but finding the best web design for your brand will increase conversions, build trust, and facilitate sales for your eCommerce website.
Follow TechieMag for more tips, tricks, and ideas to bring your business to the next level.
---
Author bio & headshot:
Adam Steele is the COO at Loganix, an SEO fulfillment partner for agencies and marketers. We build easy-to-use SEO services that help businesses scale. If you liked this article, please check out our SEO guides and templates on the Loganix blog.