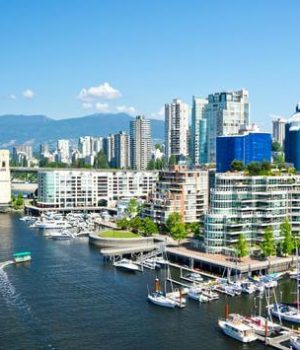 Vancouver is one of the most unique cities in all of Canada. This west coast seaport is the most populous city in British Columbia and one of the densest cities in the entire country. 
As of 2016, there were 631,486 people in the city, up from 603,502 in 2011. To put this into perspective, the entire Greater Vancouver region only had a population of 2,463,431 in 2016. 
It's also one of the most ethnically diverse cities, with over 200 ethnic groups reported in the area. Vancouver is home to a variety of different races, ethnicities, and religions from all over the world. 
In addition to its strong cultural presence, the city is also a popular filming location. Located in the Lower Mainland region of British Columbia, Vancouver is surrounded by mountains and contains a number of beautiful rivers and lakes. The city also boasts amazing art, theatre, and music scenes.
There are so many exciting things to do in the city. In fact, if you're only visiting for a few days, you might not get to them all! For a full guide on how to navigate Vancouver, continue reading below!
Grab a Compass Card
Before you start moving around the city, it's worth grabbing a compass card. This card will save you a lot of money on rides and help you get around the city with ease. 
You can find compass cards at major transit hubs such as SkyTrain stations. You can also get them at a London Drugs store or at 7-Eleven. 
Of course, you can always take a taxi or a car ride service. However, these services are fairly expensive in Vancouver. They're also not much faster than public transportation, as traffic can get pretty hectic. 
If you're thinking about renting a car, don't. Vancouver is a tiny city with minimal parking. It's also very easy to get around by foot, bike, or public transit. 
Before going out into the city, you should also find a place to store your luggage. There are a bunch of spots for luggage storage in Vancouver. Just do a quick search online and you'll find dozens of secure locations. 
Don't Worry About Rain
Vancouver has built a reputation for itself as a rainy city, which has been perpetuated by scenes in popular TV shows and movies. For this reason, many people refer to the city as "Raincouver." 
However, this label isn't quite accurate, as Vancouver is one of the driest cities in Canada from June to September. During the other months, it does rain pretty frequently, but never so hard that you can't enjoy the city. In some settings, a nice drizzle can really make the city look pretty. 
Tip Well
Here's a tip for navigating the city: tip well! In Vancouver, as well as across Canada, people are expected to tip for hotel services, as well as at restaurants, bars, and spas. You should also tip beauticians, barbers, and taxi drivers.
For hotel services, you should tip $1-2 per bag for the bellboy, $2-5 per night for the maid, and $10-20 for the concierge. At restaurants, you should tip 15-20%. At bars, you should tip $0.50-2 per drink. For spas, beauticians, barbers, and taxi services, you should tip 10%. 
Explore Robson Square
One place you absolutely have to visit is Robson Square, a landmark civic center and a public plaza. It's located in Downtown Vancouver. This plaza is home to the Provincial Law Courts, UBC Robson Square, and the Vancouver Art Gallery.
There are also a variety of restaurants and food trucks in the area. If you're looking for some good poutine, head over to Bogart's Bar and Restaurant Ltd or White Spot! 
Walk Down Commercial Drive
If you're looking to experience the many cultures of the city, head over to Commercial Drive. Here, you can find a variety of different foods and drinks including injera, sushi, tandoori, mezcal, Italian coffee, samosas, Cuban sandwiches, Vietnamese food, and more. 
Whether you're searching for a fancy, upscale restaurant or a homey, casual one, you'll find it on Commercial Drive! You can also find some cool bookstores and pet shops in the area. 
Hit Chinatown
Another place worth visiting is Chinatown. This area is almost always busy, with huge crowds constantly bustling in and out. 
You can get some fantastic Chinese food at Classical Chinese Garden. This restaurant is particularly popular because they occasionally hold guzheng lessons there. The guzheng is a 21-string zither that is popular in Chinese culture. 
Follow Techiemag for more!