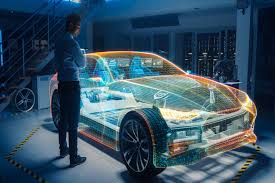 Despite the fact that self-driving vehicles are still in their infancy, they are generating a lot of interest. Most major automakers, as well as several startups, are working on autonomous vehicle projects. While most current designs combine sensor- and AI-assisted navigation with the ability for a human operator to take control, most companies developing self-driving cars envision a future in which the vehicle does all the commuting.
While truly self-driving cars may not be widely available for some time, autonomous vehicles of the future can do much more than transport passengers from point A to point B. Also, in many countries, the government is allowing driverless cars on the road. We have predicted what future driverless cars will offer their passengers.
But before you read any further and decide to buy a driverless car. Here is one thing you should keep in mind always. If you purchase a second-hand driverless vehicle, it is better to check the car's detailed history first. It's an easy, and cost-effective method to check any car's history. History report includes a credit check, registration information, vehicle specs, and a look to determine whether the automobile has been stolen or written off.
Fully Functional Offices
Long trips are now best used by making business calls or listening to podcasts; however, this is about to change. In the not-too-distant future, self-driving vehicles will serve as fully functional mobile workplaces. These future vehicles will be a mainstay for the contemporary businessperson, equipped with Wi-Fi and serviced by 5G networks, bringing a whole new avenue of productivity to the workforce.
Alternatives to Entertainment
For years, the driverless vehicle industry has get surrounded by hype, but the road to complete autonomy is lengthy. With that in mind, I believe self-driving vehicles will be confined to specialized, low-speed routes in big cities or planned routes, becoming mobile offices, shuttles, or delivery units. These cars will be more customizable and will provide additional entertainment choices as well as improved safety measures.
The Ability to Pick up on Routines and Preferences
Driverless cars can use their machine learning capabilities to learn their passengers' routines and preferences, allowing them to provide more assistance by automating tasks like ensuring on-time arrival for work or appointments, finding a cheap parking spot in congested cities, or driving to stores where specific, desired products are in stock.
Added Security Features
Surprisingly, safety will be the aspect that receives the most attention. We need laws that specify the ethics of algorithms and technology that improve the detection of other objects and levels of traffic. We're getting there, and 5G will help. Even further in the future, flying autonomous vehicles would be fantastic. 
Driving Modes that are Safe
Young children are incredibly keen to get their learner's permits, which causes parents many worries. I believe that a safe driving mode will let parents relax—the mode will always be on, and the rush that young drivers receive from speeding will be kept in check. 
Increased Cargo Capacity
The ability to carry simple goods will be game-changing. The ability to load a driverless vehicle or truck with freight and select the destination to deliver items to a recipient throughout the city would bring the postal and package delivery sectors a much-needed transformation. Increased range and interstate delivery may be achieved by substituting bigger batteries for passenger space. 
Features That Improve Privacy And Cybersecurity
More privacy and security measures will get included in future self-driving vehicles. Car firewalls will be standardized. The safety of the driver's data will become a top priority, and it will almost certainly get controlled. You may learn a lot about someone by looking at where they drive, when they drive, and how they drive. Advertisers would want to access that information, and hackers would love to take advantage of it. We must safeguard it. 
Improved Accessibility 
In many respects, self-driving vehicles will improve our lives. They'll provide new levels of accessibility to individuals who can't drive now, enabling them to move about freely and securely. We're excited to see innovations that improve and customize passenger experiences, such as allowing the commuters to stream entertainment, video chat with coworkers, or read social feeds while AVs are still in their infancy. 
The Bottom Line
While all of this is happening and our entire way of working, living, and learning will change, autonomous cars will mobilize our disabled and elderly people. People who find it challenging to leave their houses will be able to go out with less effort than ever before. Imagine the elderly neighbor who struggles to go to the closest convenience store. They will now be able to call a driverless vehicle for necessary and social encounters and, in turn, be less lonely.
Follow Techiemag for more!