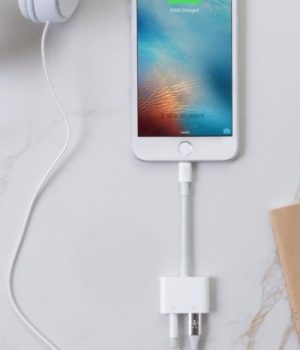 Listening to music is important in one's life that most people can't live without it. We usually find ourselves able to function well if we listen to our preferred band or music. Because of this, earphones and headphones are important when we are talking about mobile accessories. I deem these technologies essential for us to enjoy our music.
It doesn't matter whether you're using wireless earbuds or wired headphones; there will always be a designated headphone for you. Headphones for people who love listening to music will give purity to the music they are listening to, while these noise-canceling headphones will grant you the alone time that you always needed.
Did you ever try buying a new pair of headphones, and only to find that it wasn't supported by your mobile device? It seems weird, but believe us, and it happens from time to time. Fortunately for us, headphone jack adapters will help surely be of help.
What are Headphone Jack Adapters?
In simpler terms, a headphone jack adapter allows you to attach an output with your device that isn't normally compatible. Today, this issue has been very troublesome because smartphone manufacturing companies have begun to adapt and started utilizing USB-C ports. In times like this, you must carry around with you the best headphone jack adapter. With this device, you will be able to save a lot of money from buying new earphones.
Headphone Jack Types
Before getting excited and running to the nearest tech market to purchase your headphone jack adapter, you must understand the various classifications of these headphone jacks. So, here are some classifications of headphone jacks:
USB-C
The latest models of other brands can support Type C or USB C, which you can use to replace your typical audio jack. In case you didn't know, there are various things connected to how this type of headphone jack processes the audio output. This only means that there might be a slight difference in sound quality.
3.5 mm Jack
Today, the most used headphone jack adapter is the 3.5mm jack. These can be found on PCs, laptops, and smartphones, and is one of the most frequent that is being used on headphones and earphones. There are various types of 3.5mm jacks, but we will tell you about the easiest to find in the market, which are the TRRS and the TRS.
The TRS is only compatible with stereo sounds, and not with microphones. If you are using this kind of audio jack, you can only listen to your tunes, but you're unable to talk in videos or calls. The TRRS-type audio jack is compatible with both microphone and stereo functions, which only means that you will be capable of talking and listening simultaneously.
2.5mm Jack
This classification of a headphone adapter jack is the tiniest that you will have seen in the market today. It is widely used on wireless headphones. You can find these being used in video cameras, lightweight radios, and landline phones. Even though it is a rarity to find one of these, it doesn't mean that it isn't accessible to the consumers.
The JSAUX USB Type C to 3.5mm Headphone Jack Adapter
This headphone jack adapter is usable on many Type C gadgets such as Huawei and Samsung devices. The jack can also be used with 96 kHz or24-bit, and that means that you can acquire hi-fi sound quality with this headphone jack adapter. You are also assured that this headphone jack is very durable and doesn't break easily.
The Syihlon USB-C to 3.5mm Headphone Jack Adapter
Similar to our first headphone jack adapter, the Syihlon USB-C to 3.5mm adapter is also usable on most Type C devices and gives all of its users quick speeds and steady transmission of the signal. It is also designed with anti-interference that makes sure that whatever you are listening to is clear. It's durable and flexible structure makes it easy to bring with you without being threatened by breaking easily.
The Xumee USB C to 3.5mm Headphone Adapter
The Xumee USB C to 3.5mm adapter presents high-quality sound and with a strong noise reduction. It supports up to 384 kHz or 32-bit to ensure that you are always receiving great music quality while using this jack adapter. You don't have to panic about any problem regarding headset matching, as this headphone adapter can instinctively acknowledge headphones with various standards.
The Cdyle USB C to 3.5mm Headphone Jack Adapter
This headphone jack adapter supports an array of Type C devices, all the while guaranteeing that you are listening to high fidelity music. This headphone jack adapter also enables you to use controls on your headphones for answering voice calls and for playback functions.
The Apple USB C to 3.5mm Headphone Jack Adapter
This apple headphone jack adapter enables you to connect your 2.5mm speaker or headphones to your Type C Apple device. This headphone jack adapter can only support iOS 10 or later versions and with a built-in Lightning connector.
Takeaway
These handy devices have proven that they are important for people who rely on their headphones most of the time. You won't have to buy a new headphone if you find out that your headphones and mobile device aren't compatible. You just have to find the right headphone jack adapter. We hope our article helps you in finding the perfect headphone jack adapter that's best for you.
Follow TechieMag for more!