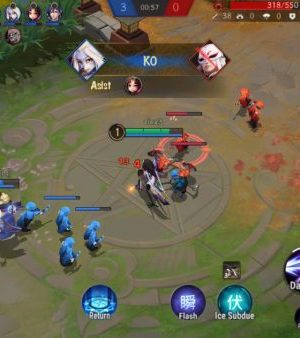 Online games are quickly turning into one of the most engaging ways of entertainment recently. The development of the technology and rising utilization of the internet allowed traditional games to be virtually available, remarkably increasing their reach and the delight of the gaming buffs.
With the developers' help, there have been a lot of available online games that people can enjoy, from the simplest one up to the most complex. Deciding which one to spend your time with depends on your preferences. One game commonly played today is the Onmyoji Arena. In this article, we will provide information about it.
What Is The Onmyoji Arena?
Onmyoji Arena is one of the most popularly played game genres today in the MOBA games or Multiplayer Online Battle Arena. These types of games let the player make characters as a part of a team to win against the opposing team. This genre also gathers together the elements of action, strategy, and role-playing that its players can encounter in real-time.
One of the most enjoyed MOBA games today is the Onmyoji arena. This game, made by NetEase, features a great character base. It merges original game designs and outstanding graphics compared to others. It has earned more popularity because of its magnificent visuals, outlandish heroes, fast-paced, and even its special heroes' styles that every MOBAs aim for.
The Onmyoji Arena is proud of its 5-versus-5 battle format, which allows teams of five to compete with another group in a battle that will test their strategy and strength. It also features a 3-versus-3-versus-3 battle mode that gives players an experience like no other.
Basic Gameplay
If you have been playing MOBA games, chances are you will be familiar with the basics of the Onmyoji Arena. But, in case you aren't, here's a quick refresher. After installing it, it will give you an option to choose your server and region. Once you have selected your server, you'll be asked to choose your in-game avatar or Onmyoji. Your choices are Yao Bikuni, Kagura, Hiromasa, and Kagura.
Once you have chosen your Onmyoji, you're good to go. A tutorial mission will be provided for you to get familiar with the game. It is best if you complete all the tutorial missions as they cover all basics of the game that will be applied with the rest of the game.
Battles are commonly played in five versus five setups, where you'll be matched up with other players to build a team. These battles are positioned in maps wherein players need to pass through to win the game by destroying turrets and defeating enemies. It works almost the same with most MOBA games, so you have nothing to worry about.
Onmyoji Arena's Shikigami
In a traditional touch, Shikigami is called spirits that protect and serve their masters from harmful spirits. Shikigami in the Onmyoji Arena serves the same purpose. There are 81 Shikigami to choose from in this game, divided into Ninja, Supports, Samurais, Marksmen, and Tanks. If you have previously played games like Arena of Valor and Mobile Legends, you should be familiar with these characters.
Users will use a Shikigami to fight against other Onmyoji in their chosen battle mode. To use Shikigami, players need to collect Coins and Summon Amulets that they can use to buy their chosen Shikigami. Most of the Shikigami in this game is the same as the ones in the first Onmyoji game. So do not be surprised to see familiar faces.
What makes the game Onmyoji Arena extraordinary from other MOBA games is the balance of their Shikigami. This game fairly distributes strength to each Shikigami to make sure they are all equal in power. However, they also make sure that the characters have different skills that players can use.
Best Shikigami
Although deciding the best Shikigami could be subjective and vary from player to player, here are a few of the most commonly mentioned to be the best in playing in Onmyoji Arena.
Satori
Satori is probably one of the most included Shikigami in lists like this. A lot of players adore and enjoy this character because of the amount of damage she can give. Once powered accurately, Satori can effortlessly wipe a Shikigami right away. One of the few that should not be underestimated.
Ootengu
Another character that you should try is Ootengu. This one has big bursts and hitboxes, allowing Ootengu to control the battle. He is also well-known for his speed-up shield and passive immunity, making him a magnificent Shikigami to have.
Ebisu
One more Shikigami that will be included in our list is Ebisu. This support should definitely be on your team. Ebisu has simpler healing support than a shield as they can instinctively react to any damage created. It will be one of the strongest Shikigami that you can have on your team once you have mastered it.
Takeaway
Even though Onmyoji Arena is one of the newest MOBA games in its market, it has proven that it can be a great competitor for games that are already in the champion's tier. With the game's magnificent over-all gameplay, superb graphics, and exceptional control, it is not surprising that more and more people are getting fond of this game.
Although it may take a little while, Onmyoji Arena is undeniably on its way to becoming a great game. It is available for installation and download for both iOS and Android users, in case you want to give it a try.
Follow TechieMag for more!