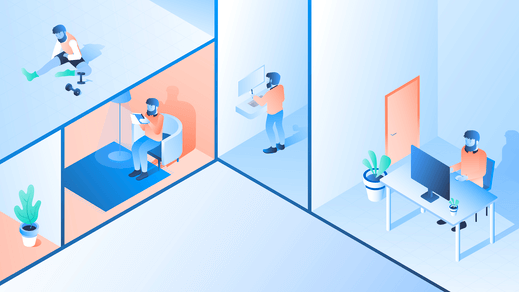 The success of any business deal, such as M&A, asset purchase, joint venture, real estate transaction, capital investment, etc., is based on two main things:
Seamless communication and collaboration

Smooth due diligence
As businesses are going global, they feel the need to make cross-border deals. However, this poses a risk of not making those cross-border deals cost-effective. If we go with traditional routes, corporate teams would have to fly to other countries and proceed in orthodox physical deal rooms.
However, there is an alternative, and it has become trendy in the corporate world. Thanks to digitalization, we have virtual data rooms — perfect, cost-effective solutions to make business deals remote, cost-effective, and risk-free.
So what is a virtual data room, and how is it helpful in business deals? And, more importantly, which data room software providers can you trust for such purposes? This guide has all the answers.
What is an Online Data Room?
An online data room is basically a multi-purpose cloud-based business solution. It is an online data repository where businesses can safely store and share their general and confidential business data.
Electronic data rooms serve businesses as a virtual workspace where corporate teams, the workforce, and different organization departments can collaborate on a centralized platform.
Moreover, VDRs are virtual deal rooms where all the concerned parties can share documents and communicate in real time. The best part? Everything happens in a secure and transparent environment.
How do virtual data rooms help businesses close deals faster?
As we mentioned above, seamless collaboration and communication between all concerned parties help close deals faster. In particular, with VDRs businesses can do the following:
Store necessary corporate documents in one place and access them remotely from anywhere.

Share, store and exchange data faster and more efficiently.

Use built-in meeting tools such as video and audio conferencing, communicating privately and in group discussions.

Monitor every activity in the data room, while bringing more transparency to the deals.
Top 4 Data Room Providers for Successful Business Deals
There are hundreds of data room vendors in the market, but these four data room services can top any list when it comes to closing deals quickly and transparently.
iDeals

Citrix

DealRoom

Merrill
iDeals
A highly sophisticated virtual data room vendor, iDeals allows businesses to store and share files in 25 different file formats. What triggered us to start this list with iDeals is its compelling security protocols that ensure no unwarranted access to the data room and that communication takes place safely.
The "fence view" feature effectively restricts users from unsolicited viewing of any document. Two-step verification ensures that only recognized users can access the data room — keeps hackers at the gates.
iDeals is a feature-rich data room, but here are some less common things about iDeals VDRs:
The setup process hardly takes 10-15 minutes.

The user interface is very simple

Drag-n-drop features allow you to upload multiple files simultaneously, and once you upload them, the VDR automatically numbers them, adds watermarks, and converts them into PDFs.
With useful collaboration tools and seamless data sharing, iDeals makes the due diligence process in business deals smooth and fast.
iDeals data rooms support almost all common operating systems, including Windows, Mac, iOS, Linux, and Android. iDeals is the only data room service provider whose customer support is run by virtual data room experts.
Citrix
Citrix ShareFile data room is a part of Citrix Systems product line. Citrix System, Inc. is an American-based provider of SaaS solutions to businesses around the globe.
When it comes to security protocols, Citrix Fileshare doesn't have many competitors because Citrix VDRs are audited in accordance with SOC2 and SSAE 16 standards.
Citrix VDRs have made data sharing ridiculously easy. Users can share files in encrypted form, approve any document through the e-signature feature, work on shared files, edit any document in real-time, and communicate seamlessly.
Different business sectors, including insurance, healthcare, accounting, real estate, manufacturing, legal, construction, and architecture, consider Citrix a top choice.
Citrix VDRS support iOS, Windows, Mac, and Android. Although these VDRS are slightly pricier, their benefits can simply outweigh the costs.
DealRoom
We are going to start our DealRoom data room review with a well-known fact — it is designed explicitly for business deals. More specifically, DealRoom virtual data rooms are highly associated with M&A deals. They are designed to minimize workload, efficiently monitor deal progress, and ensure seamless collaboration between all concerned parties.
You might wonder that such a high-end data room will be pricey, but this is where DealRoom stuns us all. DealRoom VDRs are 40% faster when it comes to deal speed and 50% cheaper when you compare them with other electronic data rooms in the market.
What's more, DealRoom is a good fit for any business size — from small shops to multinational enterprises.
The only drawback of DealRoom is its deployment method — just web-based.
Merrill Datasite
Usually tagged as a "global leader" in the virtual data room industry, Merrill is one of the most trusted and reliable solutions for cumbersome and complex business deals. Merrill mostly collaborates with large-sized businesses and financial institutions, and due to its high-end services, Merrill is on the costlier side.
However, we all know that quality is not cheap, and the below-mentioned benefits of Merrill VDRs can overshadow their high costs:
Simple management

Fast data room setup

Deep and actionable insights

Impeccable data room security

Integrated reporting

Dashboard analytics

Project index control

Contextual search
Final Words
Business deals are a combination of a lot of data sharing, information verification, negotiations, and non-stop communication. Virtual data rooms provide companies with secure, centralized platforms that simplify the process and help close deals quickly.
However, it is vital to choose the fitting electronic data room, and the names mentioned above are the top choices of corporations across the globe.