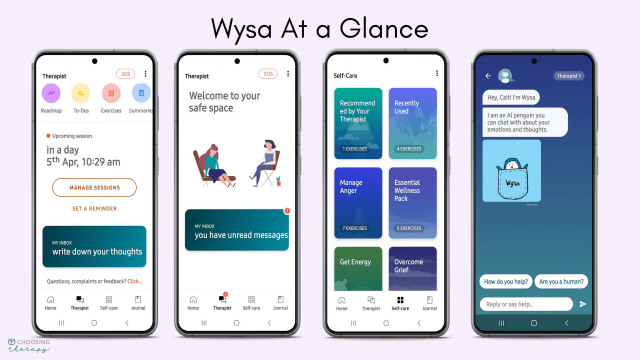 Wysa App Review 2023: Pros & Cons, Cost, & Who It's Right For
Wysa is an app that teaches cognitive behavioral therapy (CBT) principles and also includes activities like guided journaling, yoga, and meditation. It is user-friendly and directed by an artificial intelligence chatbot. There is a free version of the app as well as a paid version, and there is also the opportunity to get mental health app counseling. The cost of the premium version begins at $68.99 per year, and the cost of coaching begins at $29.99 per text-based session that is thirty minutes long.
Pros & Cons of Wysa
The Wysa app is intuitive and simple to use, and it only takes about five to ten minutes to finish each of the cognitive behavioral therapy (CBT) activities. Because the activities and exercises are all led by a chatbot powered by AI, some people may find the experience to be stifling and exasperating. While Wysa advertises that they provide therapy, what they really provide is mental health coaching provided by either a coach located in the United States or a therapist who is licensed in India (legally, they are not able to offer therapy in the US). The only option for receiving coaching is to participate in live messaging sessions; in-person meetings are not provided.
Pros
The application is nice to users and simple to navigate.
You have the option of signing up for a mental health coach and scheduling live, text-based sessions that last for thirty minutes.
The cognitive behavioral therapy tasks are very straightforward and shouldn't take more than ten minutes to do.
The "Self-Care" collection has a broad variety of educational modules on a variety of subjects, ranging from pregnancy and the loss of a loved one to stress and rage.
When you use the application, your identity is never revealed, and you are not required to provide any personal information in order to do so.
Cons
If you use an Apple device, the premium version and coaching will cost a different amount than if you use an Android device; each platform has its own set of deals.
There is some material that may be accessed without paying, but the vast majority of the application requires payment.
Where to Download the Wysa App
Android users can download Wysa on the Google Play Store.
If you are an Apple user, you can download Wysa from the Apple App Store.
What Is Wysa?
Wysa is a self-management CBT application that uses an artificial intelligence Pocket Penguin Coach to assist you in managing anxiety, sadness, tension, or rage, among other emotions and conditions. The overarching purpose of the application is to instruct you in the proper identification of your sentiments and the recognition of the ways in which those feelings directly impact your mental health.
The in-app activities offered by Wysa include instructional modules that are referred to as "Packs." These modules cover a wide range of topics, such as how to cope with the pressures of school and how to obtain a better night's sleep. There are a variety of "exercises" included in each module, and the Wysa AI bot will walk you through how to perform them. The small penguin will either engage you in conversation by asking questions, propose activities that promote mindfulness, or give you brief videos of exercises to get your body moving. With the free version of the program, you will be able to see all of the modules; however, you will only have access to one of the exercises in each module. You will need to upgrade to the premium app in order to have access to the whole collection of books.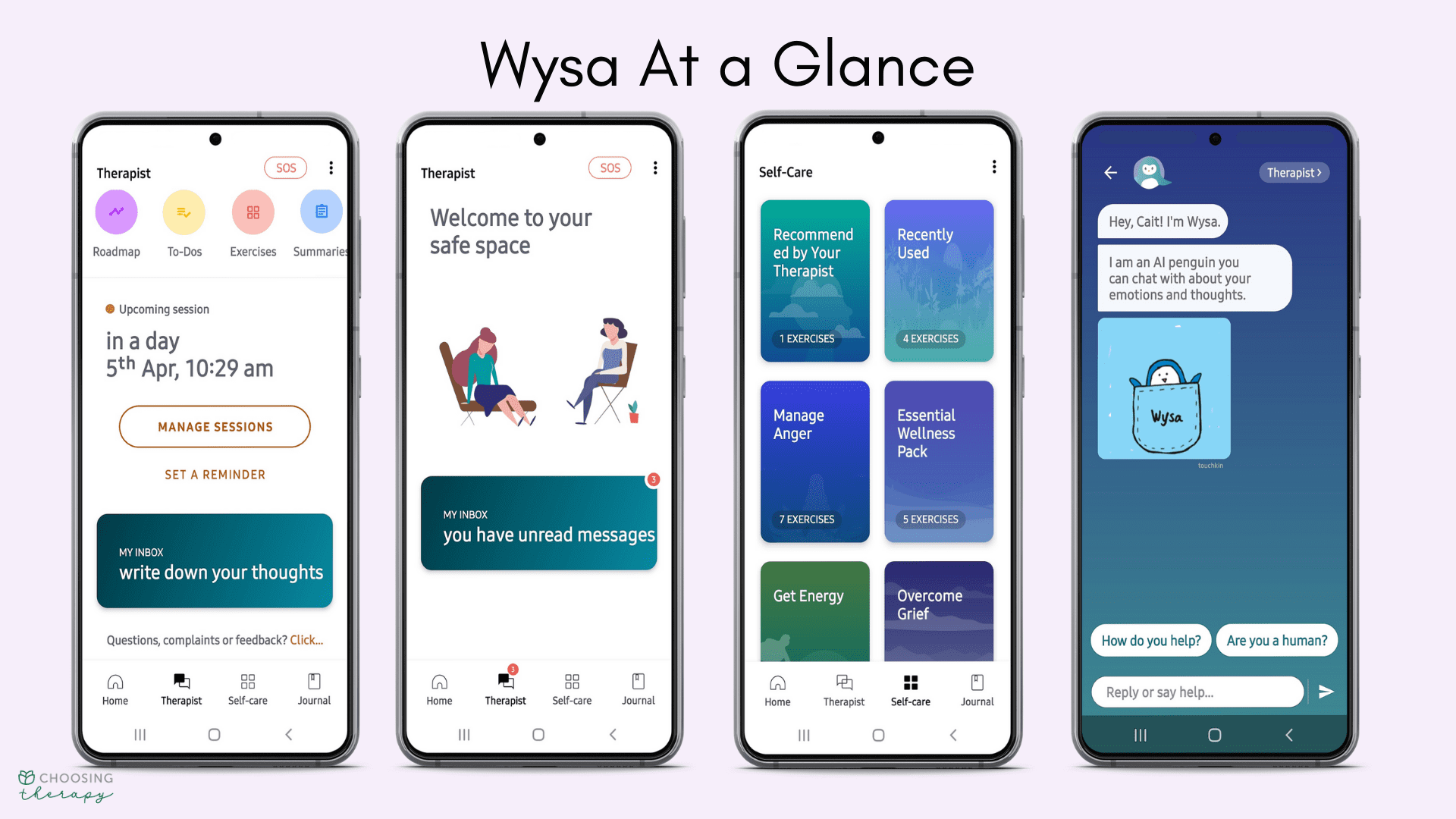 You also have the option inside the Wysa app to sign up for the "therapy" option, which gives you access to a mental health coach rather than a professional therapist in addition to providing you with access to all of the information that is included in the premium edition of the app. It is essential to keep in mind that while Wysa refers to this as service therapy, what it is, in reality, is coaching with either a coach based in the United States or a therapist based in India. These therapists do not reside in the United States, therefore they are unable to diagnose conditions or provide therapy; nonetheless, they are able to give emotional support and motivation to their clients. Live sessions take place once each week for a duration of thirty minutes and are conducted through instant chat inside the application.
Wysa for Employers
Companies may enroll their businesses in the Wysa for Employers program in order to provide their staff access to the premium version of Wysa's Self-Care app. In addition, employers will have access to analytics and insights, as well as co-branded material and a mental health calendar, which will assist them in the planning of interactive campaigns. It is essential to be aware that the Wysa for Employers program does not contain the Coaching package, and that purchasing it would result in additional expenses for workers. You may submit a demo request via the Wysa website in order to get further information.
Who Is the Wysa App Right For?
Those who are interested in learning CBT methods, individuals who need a little bit of assistance controlling their anxiety and tension, and people who want to have an in-app guide would all find Wysa to be a perfect match for them. Wysa is available on iOS and Android.
Those Who Want to Learn CBT Techniques
Wysa is an excellent tool for novices who are interested in learning CBT strategies such as activity scheduling but may not have a lot of spare time. The majority of the activities may be finished in five to ten minutes or less, making them ideal for doing during a short break at work or school.
If You're Experiencing Mild Anxiety or Stress
Wysa can assist you in developing the skills necessary to self-manage your moderate anxiety and stress symptoms if you are currently experiencing either of these conditions. The majority of the guidance offered by the AI bot comes in the form of truly useful pointers, and the mindfulness activities it recommends are simple enough for novices to do.
If You Like Getting the Help of an In-App Guide
Wysa is geared toward users who would rather have access to a guide inside the app rather than necessarily have to communicate with a real person. AI chatbots can offer a secure area for individuals to go about their feelings and think through what they are feeling without the worry of being rejected or judged by other people.
Who May Want an Alternative to Wysa?
There are some people who could benefit greatly from using Wysa, but those who need treatment, those who are uncomfortable interacting with chatbots, and those who are under the age of 13 will need to look for another option.
Do you Prefer One-on-One Therapy
Wysa provides mental health coaching via the use of professional therapists and coaches from the United States who are situated in India. You will not get a diagnosis from the coaches, nor will you receive the same degree of assistance from them as you would from a certified therapist in your state. Above all else, Wysa is an app for self-help, and users who feel they require additional assistance should look into attending in-person therapy or browsing through an online therapist directory. In the latter case, you will be able to narrow your search in order to locate other therapists who are able to provide online CBT.
You Don't Want a Chatbot
Those who are familiar with chatbots and are aware that they are not to their liking will likely not want to utilize Wysa. It is possible that some individuals may find the presence of chatbots to be more of an annoyance than an advantage and would therefore look for alternative CBT software. There are several excellent alternatives to Wysa, such as the apps Happify and Sanvello, none of which have chatbots (or they are easy to avoid). You can find out all there is to know about these CBT-based programs by reading either our in-depth evaluation of the Happify app or our assessment of the Sanvello app.
You Don't Meet Their Age Requirements
Wysa is only available to those who are 13 years of age or older. It is recommended that adolescents who are interested in acquiring CBT methods and abilities try out something similar to the Bloom app. Please take the time to go through our in-depth analysis of the Bloom app to see whether or not it would be suitable for your adolescent.
Note From the App Terms and Conditions
If You are less than 18 years of age, please read through the Wysa Privacy Policy and the Wysa Terms of Service with your parent or legal guardian or check with Your Institution to understand eligibility before use. Wysa is not to be used by children under 13 years.
Wysa User Reviews
On the Apple App Store, the Wysa app has had over 9,500 ratings and reviews, earning a total of 4.9 stars; in the Google Play Store, the app has received over 115,000 ratings and reviews, earning 4.8 stars. Even though the Wysa app received a lot of favorable feedback, there were a few problems that were brought up over and over again.
Difficulty Engaging With the Chatbot
The impersonal and formulaic nature of Wysa's chatbot replies was cited in a number of reviews that were critical of the company. Users have stated that it does not actually react to your written replies and that it operates most effectively when you use pre-populated responses.
Even those that gave the app a good rating stated that the chatbot doesn't appear to actually comprehend what it is that the user is asking or saying. On this point, I find myself in the position of having to concur with both camps: I have not yet come across an AI chatbot that is able to convincingly replicate a genuine discussion.
Subscription Cost Issues
I was paying attention to, and I observed that a lot of people were grumbling about a paywall that had just been installed. A number of individuals complained that the free material had been withdrawn, which was quite annoying. This barrier seems to produce confusion over the distinction between the counseling and coaching services that were being offered and the premium edition of the app.
Reports of Great Customer Service
People kept coming back to express how excellent the customer service was at Wysa, despite the fact that consumers seemed to be having troubles with Wysa's AI chatbot and the subscriptions. To tell you the truth, I couldn't agree with you more on this point. Throughout the course of my personal journey of figuring out the app and understanding what it has to offer, I emailed Wysa numerous times, and each time, they were more than helpful and offered fantastic answers to my inquiries.
How Much Does Wysa Cost?
The free edition of Wysa allows you to get a solid idea of what the paid software has to offer, but you are only given access to one exercise for each module. The premium edition of the app costs $68.99 per year for Android users and $74.99 per year for Apple users and unlocks all of the workouts and material in the app. Individual coaching sessions go for thirty minutes and cost $29.99, but you may save money by subscribing for one, two, or three months instead. There are no free trials available at this moment, which is unfortunately the case.
Wysa Well-Being Coaching
The Wysa "Well-Being Coaching" package includes live text sessions of thirty minutes duration with a mental health coach, in addition, to complete access to all of the features of the premium app. You have the option to purchase individual coaching sessions for the price of $29.99 each, or you can subscribe for either one or three months to get a weekly session as part of the deal.
Wysa Coaching is priced as follows for users of Android:
$29.99 per individual session
A one-month membership may be purchased for $99.99. (4 sessions per month)
Membership costs $179.99 for a period of three months (4 sessions per month & comes with a 7-day free trial)
Wysa Coaching is priced as follows for users of Apple products:
$29.99 per individual session
A one-month membership may be purchased for $79.99. (4 sessions per month)
Membership costs $144.99 for the first three months of service (4 sessions per month, no free trial)
You have the option of meeting with a coach, and if you do so, you will also have the ability to send messages to your coach at any time in between sessions. Any messages that are submitted to the coaches outside of the live texting sessions will typically get a response from the coach at least once per day. All of Wysa's coaches have a master's degree in either clinical or counseling psychology, making them experts in the field of mental health. Since they are an either coach who is headquartered in the United States or therapists who are licensed in India, the only people who may get coaching help from them are those of us who are located in the United States.
Does Wysa Take Insurance?
Unfortunately, Wysa does not participate in any insurance plans at this moment.
What If I Want to Cancel Wysa?
In the app store, you have the ability to deactivate your account at any moment. Canceling your membership is as easy as going into your settings and selecting the "Manage Subscription" option from there. If you have any queries or issues, you may contact Wysa at: [email protected].
Does the Wysa App Offer Refunds?
Wysa handles requests for refunds on an individual basis and requires that you send an email to [email protected] in order to be considered for one
How to Get Started With Wysa
You may get the Wysa app from either the Google Play Store or the Apple App Store and install it on your device. On their primary website, you are unable to register for an account at this time.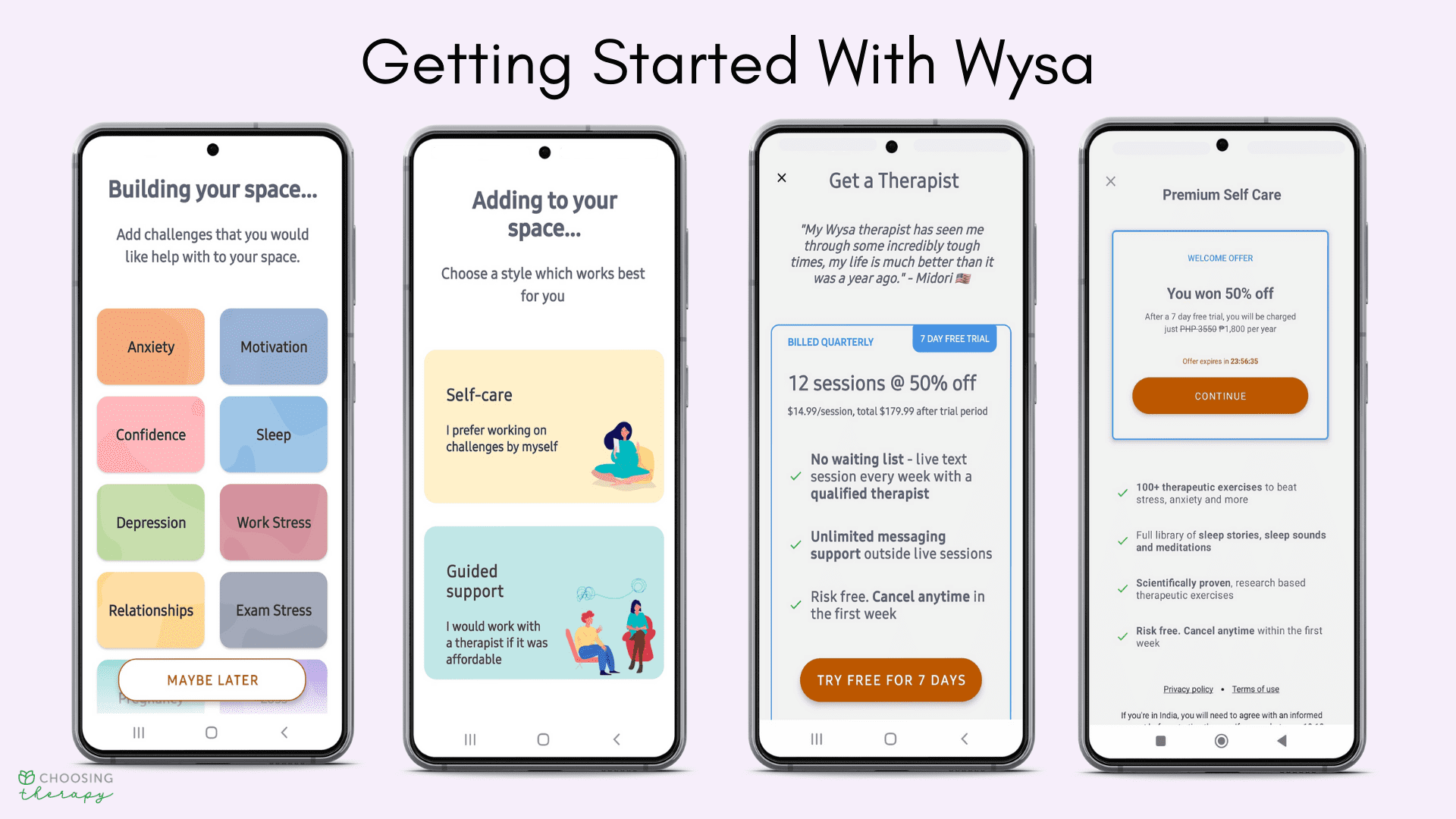 Step 1
To begin using the Wysa free version, download the app from the Google Play or Apple App store. This will allow you to get started.
Step 2
In order to use Wysa, you will not be required to register an account; all that is required of you is to enter a pseudonym and develop your "place." You will be provided with a list of "challenges" that will be placed on your new home screen. These "challenges" include things like anxiety, motivation, depression, job stress, and self-esteem, among others.
Step 3
In this, the third and last phase of the process, you will decide whether you want to follow the Self-Care plan or if you want to work with a Coach. It is highly recommended that you choose the Self-Care option and then leave the pay page in order to have a solid sense of how the software works. This will enable you to investigate the free options and provide you with a solid understanding of how the app is organized.
Is The Wysa App Safe?
Throughout the sign-up procedure, Wysa will not request any personally identifying information from you and confirms that it complies with HIPAA regulations.
Wysa Free App: Detailed Review
With a Wysa premium membership, you can unlock all 32 learning modules, giving you access to more than 200 different tasks to go through. These lessons cover a wide range of themes, including mindfulness and health, as well as issues such as increasing productivity and reducing stress.
Feature 1: Home Screen
You can locate the AI chat penguin directly on the main page of the Wysa app, and you can immediately begin conversing with it. After you have had a few conversations with the AI penguin, it will begin to ask you to complete a mood check-in after a certain amount of time has passed. They are really brief and ask you to pick why you feel that way from a list of causes, such as job, school, hunger, and so on.
Another feature that may be seen on the home screen is a shortcut that provides access to a variety of Wysa "packs," which are instructional courses. There are a total of 32 packs, and within each pack, you'll find exercises. These activities are like mini-lessons that you take with the AI penguin. The learning modules cover a wide range of themes, including but not limited to anxiety, stress, pregnancy, and self-esteem. You may use the "De-Clutter Your Mind" activity, which is included in the Stress pack, for example, as a journal to keep track of your ideas and evaluate whether or not they are negative and need to be reframed. This exercise is available at no cost to you.
Feature 2: Journal
The journal feature of the Wysa app is not a traditional diary or notebook as one would expect, but rather it acts as a list of everything you have accomplished while using the program. This will display the date and time that each activity that you have finished has been done as well as give you the opportunity to go back and review what you have written before. Reading through your old negative ideas and seeing how you've reframed them may be an eye-opening and powerful approach to understanding how far you've come as a person over the course of time.
Wysa Premium App: Detailed Review
With a Wysa premium membership, you can unlock all 32 learning modules, giving you access to more than 200 different tasks to go through. These lessons cover a wide range of themes, including mindfulness and health, as well as issues such as increasing productivity and reducing stress.
Feature 1: Self-Care Library
The "Self-Care Library" contains
all of the different modules, which are referred to as "Packs." There may be as few as five exercises for you to do, or there may be as many as thirteen activities for you to complete, depending on the learning module you choose to attempt first. There are even tales to read and noises to play that are designed specifically to put you to sleep at night.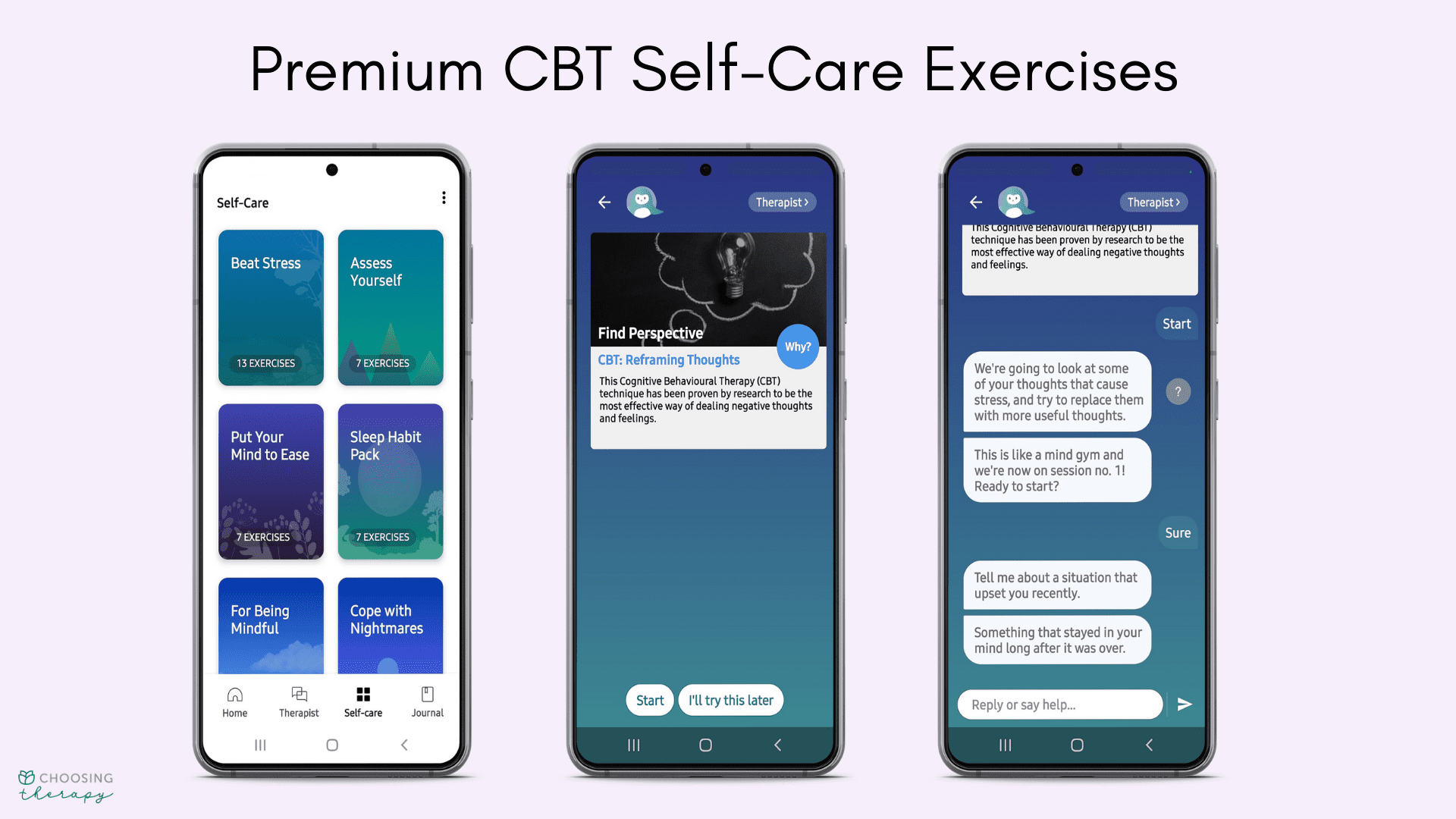 Feature 2: Well-Being Coaching
Only via the Wysa app and through text messaging can coaching be completed using the platform. One live messaging session of thirty minutes in length will be provided to you each week as part of the coaching package. During the period between live sessions, you are free to send your coach a message whenever you choose, an unlimited number of times, and can typically anticipate receiving a response at least once every 24 hours. Due to the fact that Wysa only employs licensed therapists and coaches that are headquartered in the United States yet reside in India, they are only able to deliver their services to people in the United States.
After you make the decision to participate in coaching, you will immediately be paired with an advisor. After you have been matched with someone, you will be able to click on their photo to learn more about their schooling and history, as well as see their current location. My coach has a Master's degree in clinical psychology and is trained and qualified in cognitive behavioral therapy (CBT) approaches. My concern was set at rest when I realized that I would be working with a coach who had had professional training.
My coach instructed me in the STOPP method for the first time during the live text session that I participated in. Before that, I had never been instructed in the technique. The STOPP technique is helpful for people who have anxious or negative thoughts throughout the day because it asks you to basically stop what you are doing, check your thoughts, and see if there is anything you can reframe at that moment in time. This technique is beneficial for people who have anxiety or negative thoughts throughout the day.
How are Wysa Coaches Vetted/Credentialed?
All Wysa coaches have a master's degree in either clinical psychology or counseling psychology and work in the mental health field. Every single one of their trainers is a registered member of at least one reputable professional organization, such as the American Psychological Association or the British Psychological Society. As a result of the fact that the majority of Wysa's coaches are also licensed therapists, we in the United States are the only ones who may get help from them for our coaching needs. Their team in the United States consists of coaches rather than qualified therapists.
How Does Matching With a Coach Work?
When you choose a day and time for your first Wysa session, the app will match you up with a personal coach on its own. You will also discuss any difficulties that you are currently facing and any areas that you would want to concentrate on during your coaching session.
You have the ability to switch coaches; however, you are required to submit a written request to Wysa in order to do so. You may email them at either [email protected] or [email protected] to get in touch with them.
How Has Wysa Changed?
In 2016, Jo Aggarwal laid the groundwork for what would become Wysa. Her own battle with depression served as the impetus for the conception of Wysa. It is the mission of both the app and the firm to eliminate the stigma associated with requesting assistance and support, as well as to make mental health treatment easily accessible and available to everyone.
During my conversation with the Wysa team, I asked them what sets Wysa apart from other apps and what information they would want their users to have. "We understand that mental health is personal to everyone, and to cater to that, Wysa provides mental health support with a unique blend of AI-guided listening and professional expert support that is anonymous, available 24 hours a day, seven days a week, and clinically approved," Mariam Mushtaq told me. (Personal message from M. Mushtaq, dated March 23, 2022)
They also said in a follow-up email to Wysa that they are in the process of assembling a worldwide staff of mental health coaches. This information was supplied by the company.
Final Verdict on Wysa
Cognitive behavioral therapy (CBT) skills and practices may be learned and kept up to date with the aid of Wysa. Unfortunately, the AI chatbot sometimes has the impression that it is confined, and it does not always answer in the appropriate manner throughout a discussion. Dealing with the AI bot each and every time you want to journal may become boring, despite the fact that it is helpful to have a tutorial for some of the activities that are included in the program.
The availability of a mental health coach is a valuable feature; however, it would be much more valuable if there was also an option to meet with the coach in person. Since all of Wysa's coaches are experts in the area of mental health and have received training in CBT, it is much simpler to put one's faith in the recommendations they provide. Despite the fact that Wysa allows users to communicate with real people, the software lacks a human touch in other ways. Even though this app is a very excellent CBT app, it has the potential to be an absolutely incredible app if you were able to attend in-person coaching sessions.
Follow Techiemag for more!