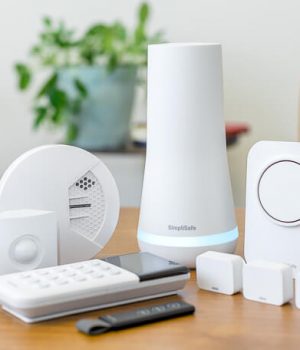 Smart home security systems are gradually replacing traditional systems in many homes around the UK. So, what are smart home security systems? Are they worth investing in, and how can they protect your property?
Traditional home security systems haven't been completely jettisoned with the introduction of smart systems; they have been augmented with the ability with such features as monitoring, control, and interacting with your house from a smart device like an app on a phone or tablet.
What Are Smart Home Security Systems?
According to Jamie Johnson, CEO of FJP Investment, "An internet-connected system, the term smart home security system refers to security gadgets that usually include things like a hub, siren, contact sensors, and motion detectors. Their purpose is to work synergistically to detect and then alert you when an intruder is in your home."
There are a wider variety of systems on the market, some of which can sync with other smart gadgets, like smart locks, voice-controlled devices, and security cameras. But be aware that not all smart alarm systems are equal, with some just being wireless cameras with additional features. These systems may fall short of what you need with a dedicated alarm system to protect your property.
The internet-connected hub is the driver of the vivint smart home security system and is seen in many new build properties. The hub, which connects and communicates with all the components of the system, operates wirelessly and communicates with an app on your smartphone or tablet.
You can access and monitor the home security system via an app. When the alarm is triggered, you can receive alerts with which to decide what action to take, whether calling the police or recognizing that something unthreatening activated the alarm.
A basic smart home security system can be purchased for less than £100, but for a better-quality system, you are looking at a starting price of about £250. Larger homes will likely require additional sensors to give you better coverage.
Comparing Smart Systems With Conventional Ones
Smart systems have the advantage of convenience and flexibility. With a few swipes of your phone, you can access the app and can keep an eye on your home, giving you 24/7 access to your home's security system whether you are at work, out shopping, or on vacation with the family at your favorite resort. The ease of access and peace of mind that smart systems afford cannot be matched by traditional systems.
Make sure that the system you buy is still operational if the wi-fi goes down. Most will still trigger the alarm is activated, even if you are not sent notifications. However, there are some systems on the market that won't work without an internet connection, so you need to check that your system will still work, especially if you live in an area where the internet connection isn't very reliable.
Traditional alarm systems that simply sound the bell alarm have an advantage over smart systems that rely on an internet connection in this regard. Although not having all the convenient features offered by smart technology, the traditional systems have a good reliability record.
Furthermore, for a small monthly fee, the traditional system can be monitored by an Alarm Receiving Center (ARC) who will call to see if everything is alright when the alarm is activated, and if no answer or you are out, they can send a driver over to respond and check your property. Typically, you will receive a call and be asked for the code password. If an incorrect password is given, depending on the agreed procedures, the police will be called on your behalf.
These days, it's common for ARCs to monitor both home alarms and motion-activated cameras. Customers can opt for just the traditional alarms, or just cameras, or both together. Moreover, ARC monitoring often works in conjunction with smart systems so that both the home user and monitoring center have access to the smart home security. This is useful for those who travel frequently for work but still want to be able to access their home security with the added peace of mind that an ARC will respond in person.
Self-Installation
Smart home security systems can be self-installed, which is part of the attraction for many users. This can be easily achieved with only basic DIY skills. The most difficult part is if you have an outside sounder alarm box, but you could easily get some help with that part if you don't feel confident enough.
Apart from the alarm box, it's straightforward in fitting the motion detectors in the places of your home you think are the most vulnerable, such as the back door and windows.
When installing your smart home security systems, bear in mind some important points.
Sirens should be placed where they can't easily be tampered with or damaged, such as being out of arm's reach. But remember that you will want to replace the batteries at some point, so bear that in mind.
Sensors should be placed where they can't be easily avoided.  Place motion detectors at access points and not too low so they can be hopped over.
Passwords for the alarms account on the app should be very strong, using a memorable code but not easily cracked. There are usually security options for accessing the app which should be taken advantage of and activated.
 Follow Techiemag for more!