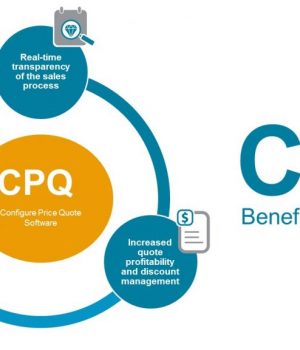 CPQ is one of the best pricing management software for businesses. If you want your business to transform into an automated sales experience that is personalized, easy to scale, and efficient, then CPQ is the software your business needs.
Effective Pricing Management Software
Tracking effects of price changes
pricing software will help you determine why and when there was an increase in sales volume and ROI (return on investment) because of a change in pricing.
Modeling new prices
The pricing management software will help your business by projecting outcomes and modeling new pricing structures.
Real-time updates
The software will update the pricing elements of products automatically in real-time as they change. Such pricing elements include benchmark pricing, pricing rules, promotional pricing, and custom packaging.
Avoiding pricing conflicts
Your business will avoid many pricing conflicts caused by the delayed update of prices in the system by installing pricing software like CPQ, which will update the prices automatically.
Your business will benefit from CPQ tools that will propel your business ahead of its competitors by providing the right products to consumers at the right price.
So, what profit-boosting benefits will CPQ offer your business?
Shorten Your Sales Cycle
CPQ will greatly boost your business by accelerating the sales cycle. A typical sales cycle comprise the following:
Prospecting your next potential client
Before your sales rep goes out in the field, they need a strategy on how they will move. Knowing who might be the right potential buyer for the products is significant for a successful sale.
Making contact 
Once your sales team identifies the prospective buyer, they can now approach them and persuade them to buy your products.
Win the client with a great sales pitch
Once your sales reps move in for the kill, they must have an impeccable sales pitch that will win the client over.
Close the sale 
After answering all the clients' questions and concerns about the product and convincing them, the sales rep closes the sale with a transaction.
With CPQ, this entire process shortens since the software provides powerful intuitive tools that enable the sales team to find the right products, tailor the configurations, manage approvals, adjust prices, and produce professional proposals.
Reduce Training
CPQ price management software will reduce the cost that your firm would normally incur in training the staff.
The software will take on many responsibilities that you would have previously trained employees to perform like:
Updating prices
CPQ will automatically update the prices of products, which means you won't hire people to change the price of each product manually.
Projecting price changes in the market
Unfortunately, even the best-trained staff cannot project outcomes and model new prices for your business as fast as CPQ software can.
Increase Lead Conversion Rate
CPQ software will help your business convert all the prospective leads into sales. Traditionally, pursuing leads would cost businesses a lot of time and resources in terms of business trips and long phone calls to potential clients.
CPQ simplifies this process by completely integrating with your CRM (customer relations management) to produce fast, detailed, and accurate sales proposals. This means your sales team can approach potential clients with confidence.
Introduce CPQ to your business today to start enjoying increased sales and reduced costs.
Follow TechieMag for more articles.