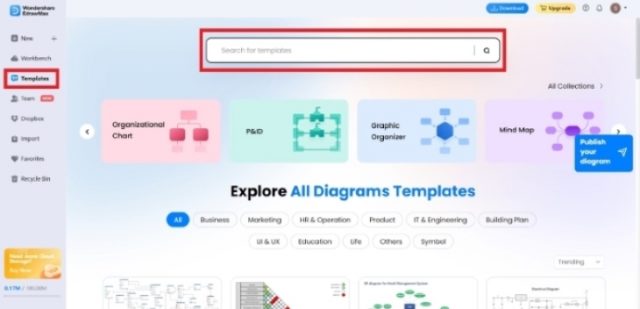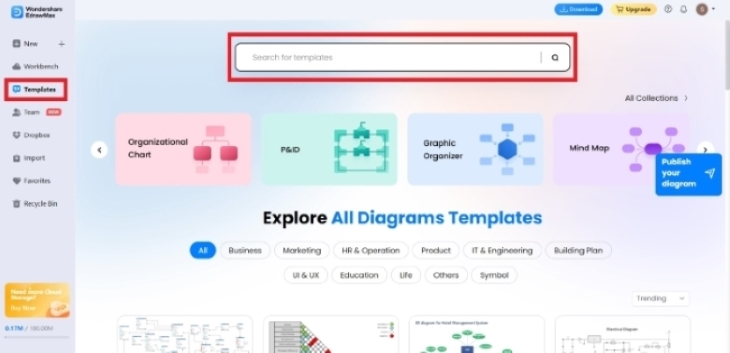 A flowchart is a process-oriented diagram that shows how to go from one step to the next to achieve a certain goal. Because of the need for sequential order in programming languages, flowcharts are essential. A flowchart's importance extends beyond the realm of science, however, since it can be used to map out the processes of any process in an indisputable fashion.
Recreating a process in a flowchart format demands an in-depth familiarity with its individual components and their interdependencies. Additionally, a flowchart incorporates the proper icons and resources. Here, you'll learn why flowcharts are so useful and how to quickly and easily create your own using EdrawMax.
Why is a Flowchart Significant?
The flow of algorithms, processes, or labor is often shown with the use of flowcharts, which are graphical representations of sequential order. A flowchart is a graphical representation of a process, showing the stages as connected boxes.
System engineers often resort to the use of flowcharts, which help them see and comprehend the interconnected parts of complex systems with many operations and lengthy flows. At the same time, these procedures may aid system engineers in pinpointing problem areas and focusing their efforts. Further advantages of using a flowchart include:
Flowcharts may be used to highlight key processes and provide perspective.
Using a flowchart, one may streamline a process by identifying and eliminating unnecessary steps.
A flowchart's readability makes it possible for even a non-technical individual to grasp the logic behind the whole procedure.
It's useful for learning how something ought to function.
System engineers may do a thorough investigation of the issue at hand and identify the most practical solution by drawing up a flowchart.
Making a flowchart is like using an agile approach in reverse; it allows you to divide the issue into manageable chunks that can then be evaluated and analysed separately.
What is EdrawMax?
Students and system engineers alike may benefit from using EdrawMax, since it is a very effective flowchart programme. When making various types of flowcharts, the pre-built symbol library included with the 2D flowchart programme will come in helpful. Various kinds of flowcharts may be made with the use of this programme, including:
Data Flow Diagram
Cross-Functional Flowchart
BPMN
Event Flow Diagram
IDEF Diagram
SDL Diagram
Workflow Diagram
Audit Diagram;
And more
Besides a variety of symbols and flowchart formats, users also have access to a repository of templates created by their peers. This comprehensive diagramming tool enables you make copies of those templates, makes it easy to make changes, and then lets you export the resulting flowchart in a variety of formats, including Microsoft Visio.
How to Make a Flowchart Effortlessly?
You can make effective flowchart diagrams using EdrawMax even if you've never made one before, because of all the customization possibilities it gives you. If you're thinking, "How can I easily construct a flowchart?" you can just follow these instructions.
Launch EdrawMax: The best place to get this flowchart programme is through the developer's site. After downloading and installing the software, you may sign up using your email address and then run the programme to get access to the many diagram kinds and pre-made templates. Select a flowchart diagram that meets your needs from the "Flowchart" menu under the "Basic" diagram type.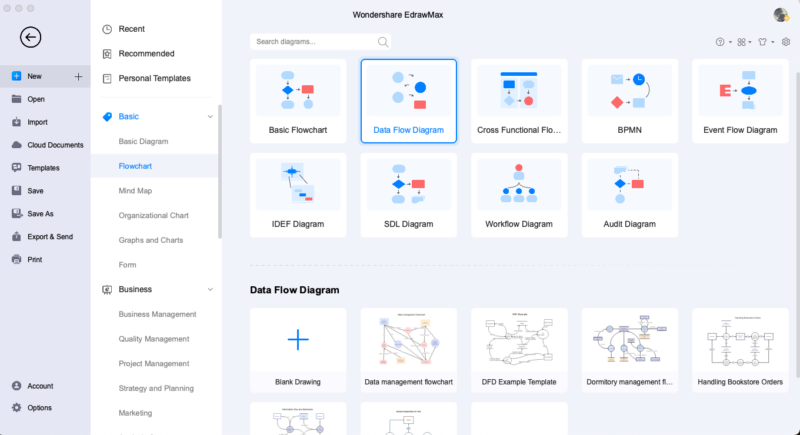 Blank Canvas: You may access the canvas in EdrawMax by clicking the "New +" button on the left if you have experience creating flowcharts. The left side of the page contains the Basic Drawing Shapes and the Basic Flowchart Shapes. You may now begin arranging them on the canvas board.
Access Templates: At the same time, you may obtain flowchart templates created and shared by EdrawMax users by going to the 'Templates' area of the site. Duplicating sections of the diagram and editing them to fit your needs is easy with this free programme for making flowcharts.
Add Data: Information may be added to an EdrawMax flowchart as required. You may also use a variety of flowchart components to make sure you've included every necessary step in the process.
Export & Share: When you're through with the flowchart's layout, you may save it in a variety of formats, including Graphics, HTML, Office, and more. Your flowchart may be presented in the form of a slideshow, or the URL can be sent to the audience.
Free Flowchart Software
EdrawMax is a comprehensive flowchart maker for creating and sharing flowcharts, with features including pre-made examples, symbols, and themes, as well as access to a wealth of internet information and support materials. This free flowchart program includes several very helpful tools, such as
Built-in Templates: EdrawMax's library of over two hundred and eighty different diagram types contains thousands of pre-made templates. These pre-made diagrams may be used for everything from network diagrams and floor layouts to infographics and scientific diagrams. Templates in the template community are regularly updated by our registered users, so you can expect to discover fresh ones whenever you visit.
Industry-Standard Symbols: Flowchart symbols are essential to the creation of any flowchart. Flowcharts may be easily made using the vector-enabled symbols included in this free program. You may discover many common flowchart symbols in EdrawMax, such as "Process," "Decision," "Document," "Start," "Terminat," "Stored Data," "Manual Input," "Display," and "Manual Operation.
Connectivity Tools: When using EdrawMax, a vector-enabled tool, you can be certain that the flowchart will maintain its integrity throughout the process. A complicated flowchart can still be understood even if a step is deleted. In addition, you'll be given the opportunity to add the following symbol to the process after every single flowchart symbol.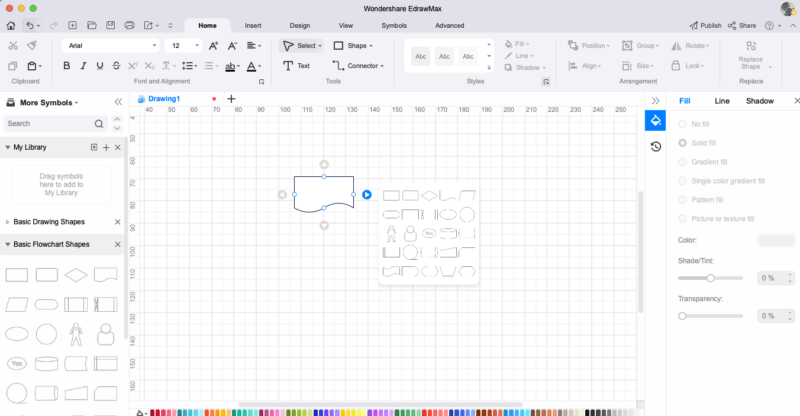 Export Options: It's possible to export your crafted flowchart in a number of formats with this free program. Multiple file formats, including JPEG, PNG, SVG, TIFF, PPTX, Docs, EXCEL, and HTML, may be exported from this program. Facebook, Twitter, Line, and Pinterest are just a few of the social media platforms where you may publish your flowchart design.
Final Thoughts
A flowchart is a diagram that shows how something works. A grasp of flowchart components, as well as the symbols used to represent them, and the many ways in which they may be connected, is necessary for drawing flowcharts accurately and efficiently. If you're using this program, creating and sharing flowcharts with your colleagues will be a breeze. More than 25 million people across the globe have already discovered the many benefits of using our free flowchart software. Check out EdrawMax and the available free flowchart templates if you intend to make a flowchart.
Follow Techiemag for more!