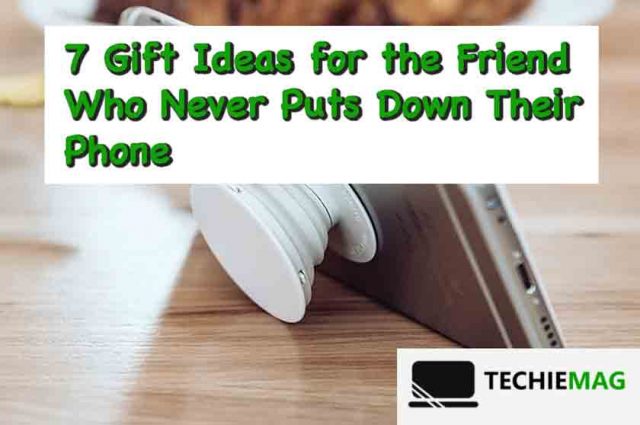 Have a friend who is glued to their phone, playing games, or obsessed with social media? Struggling to come up with a decent gift idea for the holidays or an upcoming birthday? Then we're here to save the day. Below, we've listed seven gift ideas for a friend who never puts down the phone. From phone gadgets that make life easier to practical must-have phone accessories to keep them safe, read on for some great gift ideas that they're sure to love!
#1 Practical and Cute Phone Cases
Have a friend who prefers to swap out their case to match their daily ensemble or just got a brand spanking new iPhone 13 or Pixel 6? Then get them a couple of cute phone cases. Choose a cute phone case with charming, colorful floral prints or even a phone case with dazzling glitter, sparkles, or even iridescent or holographic patterns. Is your friend constantly posting to Instagram or TikTok? Then give them a phone case with a built-in LED light ring to take fantastic selfies and videos and look their absolute best. It will improve their photos tenfold and they'll have you to thank!
#2 Qi-enabled Wireless Chargers
Qi charging is taking over, offering a whole new world of wireless charging capabilities. So long as your friend has a more recent phone model, they can take advantage of their phone's Qi charging with a Qi-enabled wireless charger. Do they need a wireless charger for a desk space in their home office? Then get them something minimal like a wireless charging Power Disc pad. Whatever you choose, it will keep their areas clean and clutter-free, too.
#3 Bluetooth Phone Camera Remote
Know a friend who is always the one taking group photos, often left out of the shot? Make sure they're never left out of another picture with the gang with a Bluetooth phone camera remote. By pairing this wireless shutter device to their phone, your friend can capture everyone together — especially when the group gets too big for an arm's length or even stick-length selfie. There are plenty of remote options out there for both Android and iPhone devices.
This super-compact device barely takes up any room in a purse or bag. You can even put it in your pocket! Plus, a Bluetooth camera remote even makes a great small gift or stocking stuffer, too!
#4 Touchscreen Gloves
If it's getting cold outside, make sure your friend doesn't skip a beat or text with touchscreen gloves! Touchscreen gloves are just like regular gloves, but they offer a conductive material on the thumbs and forefinger that allows you to swipe, text, and more. Discover some of the best touchscreen gloves on the market and wrap this gift up so they can stay warm and on top of their game all day long.
Also, touchscreen gloves don't have to be an afterthought or easy stocking stuffer. You can get them a pair of luxurious leather gloves or cashmere wool gloves that will keep them looking stylish as always.
#5 A Flash Drive/Photo Stick for Extra Storage
Does your friend always seem to run out of storage space for their photos and documents on their phone? While storing photos on the cloud is ideal, sometimes just having a flash drive for quick backups or storage can save you time and money. That's where a phone flash drive or photo stick comes in handy!
If they have an Android device, give them the SanDisk Ultra Dual Drive M3.0 Flash Drive, which offers a dual connector. On one end is a micro-USB Type-B that fits your phone and on the other a USB 3.0 connector to slip into your desktop PC or laptop. Do they have an iPhone? Then get them the Apple-approved MF-certified JDTDC Photo Stick, offering 128GB of storage space and multiple color options so you can match their phone style.
#6 A Travel Pouch for Cables and Wires
Make sure your friend can stay charged on the go, while also keeping their cables from getting tangled. Instead of allowing them to toss their cables in their backpack or purse, where they can crimp and become damaged, offer them a travel pouch to keep everything organized.
Choose a travel pouch made of a durable material like supple leather or a color to match their phone case. Be sure the travel case offers at least three or four tabs that can snap the cords into place and a zipper pouch for extra accessories (like that flash drive), too. Want to make it even more special? Find a travel pouch that allows you to stamp or print their monogram initials. They will love it!
#7 A Car Mount for Hands-Free Driving
While you hope your friend can at least put down their phone to pay attention to the road, you can never be too safe. Make sure they practice hands-free driving with a phone mount. Whether you choose a phone mount that secures to the windshield or fits inside a cup holder is entirely up to you, but just make sure they're driving safely. For those with iPhones, it would really make their day to have a MagSafe-compatible phone mount that allows them to snap their phone in place effortlessly as soon as they hop in the car. This way, there are no excuses!
We hope these gift ideas help steer you toward finding the perfect gift for your phone-obsessed friend. Whether you get them a cute phone case or a wireless charging station or a phone mount for their car, it is a thoughtful gift that they are sure to appreciate.
Follow Techiemag for more Technology News.