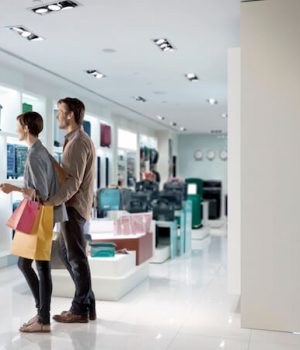 The retail industry has always used digital displays for as long as they have been available. Stores use their LCD TVs to show promotional videos. Fashion houses use TVs to show a looping video of their showcase or fashion show.
And the digital signage industry has grown by leaps and bounds. Today, an indoor LED screen can fulfill so many more roles than its usual promotional chore.
Customer Feedback Forms
Businesses spend a lot of resources making sure that they provide customers with what they want and need. Thus, they come up with the best products, the best services, and the best everything. After all, isn't the best what customers want?
That is a logical conclusion, but any business that makes this assumption can be wrong. Even if customers want the best, what they deem the best may differ from what the company thinks is best.
Thus, there is a need for an ongoing conversation between businesses and their customers. Wouldn't it be better to directly ask customers what they want first before wasting money and time on "improvements" and "enhancements" based on educated guesses?
This is the reason getting customer feedback is critical. If your customers can tell you precisely what they want, you will not have to guess what "the best" means for them, and you can give them exactly that.
And instead of going around the store with pen and customer feedback forms – people would find this intrusive – put up your Customer Feedback Form on a few LED screens in your store. Then encourage your customers to fill out the form as they are checking out.
Or you can tell your customers about your electronic feedback form while they are browsing the store. Your feedback form display can print out a coupon after a successful feedback submission, which the customer can use to claim a discount at the counter.
Interactive Digital Display
Help customers help themselves, and they are much more likely to open their wallets and spend money on you.
For this reason, SaaS companies have customer happiness managers and spend a lot of time and resources making self-help and FAQ videos and writing about use-case scenarios.
SaaS companies want their customers to find their products easy to use and relevant. This way, their customers will use their technology and continue using them. It's all about increasing customer lifetime value.
The same philosophy applies to retail. Instead of FAQ videos and use-case scenario writeups, malls set up interactive digital maps at mall entrances. This way, people coming into the mall will know where to go and find what they need, making a sale more likely.
Likewise, shops can put up interactive digital catalogs. Yes, they can display their merchandise on their racks. But, in high-end stores particularly, you don't want to fill every nook and cranny with your inventory. You want your space to look organized and sophisticatedly sparse.
Instead of crowding your aisles and shelves with all of your merchandise, you can set up an interactive LED screen that will let your customers leisurely browse through your catalog. Then, when they see what they want, they can ring a bell for assistance.
Interactive Digital Mirror
You can take the idea of interactive digital displays one step further. With augmented reality software, you can turn your interactive LED screen into an interactive digital mirror and use it to help your customers virtually try on all of your clothes, shoes, accessories, and makeup.
So not only can customers comfortably browse through your merchandise, but they can also try them on virtually through your interactive display. This will make shopping extra exciting yet simpler for your customers.
With an interactive indoor LED display, your customers wouldn't need to put on and take off countless clothes and accessories just to put together a look they love. They could virtually try on any product in your inventory. And they would only physically try on those that looked good on them on your interactive digital display.
Having an interactive LED mirror should also ease the demand on your staff. There wouldn't need to be as many trips to and from the storeroom. There should also be less fitting room clutter to clean up.
Modular Video Walls
Your store's interior design speaks volumes. Its layout and the lights, colors, furniture, and furnishings all tell your customers who you are as a brand. And based on what they perceive about your brand, they decide if you and they are aligned.
Indoor LED screens can help you attain the look you want your customers to associate with your brand. Set up a series of indoor LED screens and make them your store's focal point. You can emblazon your brand name on your video wall or show your latest digital ad campaign on it instead.
The great thing about having a video wall is that you can change the look and theme of your store with a simple change in digital content. Change your video wall content according to the season. Or change the colors according to the season's color.
This is not something you can easily do with a non-digital wall. A change, in this case, means repainting, repapering, or recladding, at the very least.
You can also use your video wall to display your bestsellers or, better yet, the highest value items in your inventory. And it will be easy to shuffle through your stock using your digital content management software.
Indoor LED screens are modular, too, which means your video wall can be as small or big as you need it to be. There are also flexible LED screens, special digital signages that can wrap around columns and assume various concave and convex shapes.
Onward and Upward
Indoor LED screens can contribute so much to the retail space. They add a spark to a store's interior design, and they improve customer experience when used as interactive displays, mirrors, and customer feedback forms.
And the digital display revolution is far from over. Follow Techiemag for more info!