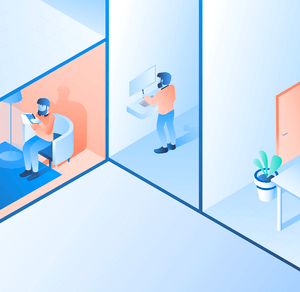 Virtual data rooms are mostly used in mergers and acquisitions. As a part of due diligence, the sellers and buyers need to have access to a huge amount of confidential files. These are usually important financial reports, documents, and critical corporate information, which should be stored in a secure place.
A virtual data room makes it much easier for buyers to review and exchange certain documents without the need to travel to the office of the seller, where physical documents may be stored. With the VDR solution, the document review process is much cheaper, as the buyer does not need to handle physical paper documents and pays for the travel expenses of different experts to check the documents.
The Mergers & Acquisitions Deal Process
The whole process of preparing for and executing an M&A can be very difficult and intensive. It can take several months to assess potential target companies with a proper review of their information in due diligence. This review helps buyers to better understand the current state of the target company and whether the deal is financially viable.
In general, the M&A process starts with a preliminary evaluation of the target company. This also includes high-level discussions between buyers and sellers, which help to determine the common strategy for two companies, their values, and potential synergies. When the due diligence process starts, there is a lot of preliminary work that should be done in assessing the market, business, and financial reports. 
Security is the highest priority throughout the entire M&A deal process, with the risk of data leakage potentially causing deal failure and damage to professional reputation.
When it comes to managing mergers and acquisitions, traditional tools are now outdated and cumbersome. A few decades ago, only physical data rooms were used for M&A, which was costly to deploy and maintain. The lack of mobile capabilities causes many delays in the cycle of M&A deals, which made those deals so time-consuming. Also, working with several bidders on a complex deal without proper communication tools may lead to errors and miscommunication. 
How Technology Can Speed The M&A Deal Process
Digital technologies like data room software, increase M&A deal speed, reduce transaction costs, and foster new M&A-related business models previously not possible. More and more companies are now recognizing the great benefits that VDR brings to the business. Due to our current world of remote work, companies need to have new M&A capabilities.
Also, many companies are doing string-of-pearls acquisitions. It's the process where they buy a number of smaller companies to give them a digital advantage in a specific area. In string-of-pearls acquisitions, it's important to use innovative closing models for business continuity and sustainability.
Faster Collaboration, Easier Document Management, And Secure Storage
There are many answers to how technology speeds up complex transactions, and there are several of the most important, including faster collaboration, better document organization, and easier access to files.
Besides getting secure storage for your files, you also receive many useful file management tools that help to better organize all files within your data room. With advanced features, data rooms have become perfect deal management tools that help to streamline and secure the deal process in one centralized space.
In the fast-moving world, time is an extremely valuable resource. That's why it's worth maximizing the efficiency of all processes and enhancing deal management. Follow Techiemag for more!