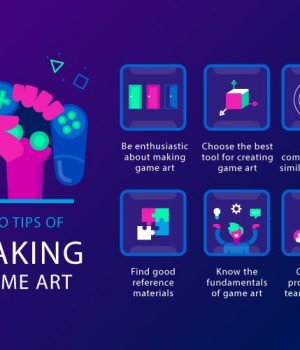 How to make game art with effects like the leading Ramdev companies create? How to make video game art appealing to the target audience? How to visualize ideas for your future game? These and many other questions pop into the head of most game developers. 3D art company Kevuru Games is ready to provide details about each point. 
Game art is a complex area that, on the one hand, embodies creativity and imagination, and on the other, a set of functions – to depict a key idea (high concept) and support it with relevant 3D and 2D characters, environments, and other assets, attract and retain an audience, etc. The art that will be used in games has many features. And because of these features, making game art is not as easy as ABC. But with these 5 expert tips, the process will be much easier for you.
Be enthusiastic about making game art
How to make art for video games without getting carried away with what you want to do? Very difficult. You might get stuck halfway through especially if you're new to the development world. Get organized. Bring the freshest and most relevant ideas to the fore. The working process should show clear evidence of the logical development of your ideas and creativity. Be prepared to discuss them with clarity, confidence and enthusiasm with everyone involved in the process. Rest assured that most of the world's most famous gaming projects have been created with a strong sense of interest, pleasure and desire to participate.
Choose the best tool for creating game art
What tools to use when making game art? All those that exist today. Trust, most outstanding artists could only dream of having such a good selection of tools for depicting characters and environments. Of course, the latest set of tools will be loaded with ones designed specifically for your chosen style, technique, and format. Basically, game art tools are divided into several groups – ones for 2D and ones for 3D. Then choose what works best for your project. Which tools you use will depend on what you need to technically implement. For example, Photoshop is a universal tool for both 3D artists and 2D artists as they all need to sketch before creating anything of value to the industry.
Study competitors in similar projects
Most studios have their own unique art for which they are famous in the market – realistic 3D characters for first-person shooters or 2D assets for slot machines. Your job is to draw attention to this art and highlight some important features for your own project. In 3D projects, look at modeling entire scenes, individual props, a character bust, texturing assets, or even a scene for overlaying lighting. In 2D, you need to study graphic elements stylized for a specific genre. Each detail will play a crucial role in creating your own game art. But again, don't try to copy – this isn't a way of famous projects. They also come up with original ideas!If you having a hard time in gathering the data then you can go for UI design company San Francisco to talk about the competition, development and brand success.
Find good reference materials
What if you have no idea how the character should look in the game? Okay, find references for your future project – in advertisements, films, cartoons, again, competitors' projects, etc. With a complete understanding of what the project should look like, you can collect references that accurately convey the artistic vision. References that show how details, materials, textures, and so on look like will make it a lot easier to create quality art. Besides, having collected all the found examples of UI design company San Francisco, it is also better to highlight the positive features that can be used, and the negative ones – the errors that must be taken into account.
Know the fundamentals of game art
The more you get to know about game art, the more chances to create impressive visuals for your project and gain a good reputation in the market. Styles, genres, techniques, stages of game art determine the future success or failure. Keep in mind that the genre brings its own requirements and laws to the implementation of the project idea. Depending on which mechanics the game uses, the way it looks will change as well.
Gather a professional team of game artists
If you are still lost in all aspects of the art of gaming, it is best to hire real experts and deal with them for the best results. Having passed the initial stage with a professional, you will greatly save development time. In general, a good option for a small project is a more or less versatile artist who can sketch out the location, character, and props and bring it to life for further stages of development.
Well, you are provided with a list of useful tips on how to make game art. If there is any question, you always can address 2D game artists at Kevuru Games for more detailed information.