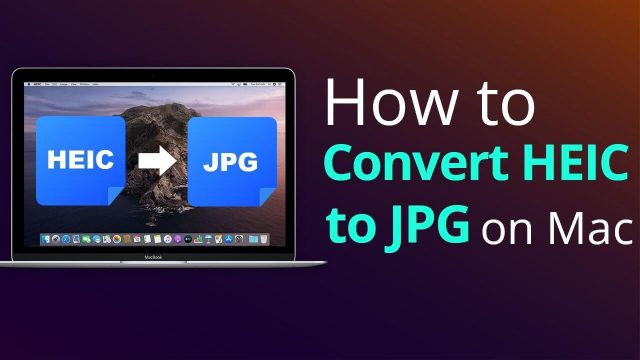 As soon as you upload your images from iPhone to PC or Mac for editing, you come to realize that those images need to be changed from HEIC to JPG format.
Ahh!
But Why???
Because HEIC Format is not compatible with many devices, you need to get the best HEIC to JPG converter for your Apple devices.
We all are busy with our lives – chores, whether personal or professional life. Aren't we?
And if simply converting a single video/image from one format to another takes longer than 30 to 40 minutes, what could be worse than that?
That being said, saving time is crucial for everyone — we all need convenience in our lives. 
Now you won't have to worry about the time-consuming process of HEIC converters anymore because I've compiled a list of some awesome apps for you.
This article contains all the essentials to know about the fastest way to convert HEIC to JPG and leaves you to decide what option suits you better.
So let's get started –
Online and Offline HEIC Converters
Conventionally there are several HEIC to JPG converters online and as well as offline, but not necessarily all serve the purpose. To help you get your file converted on Mac or PC, we have brought a mixed list of best converters — online and offline. Which will help you get a bunch of files converted easily and quickly.   
Offline HEIC to JPG Converters
Going online to convert a file that's on your device (offline) doesn't seem fitting. So let's first have a look at some of the filtered out offline HEIC to JPG converters. 
iMazing HEIC to JPG converter
Right now, it is one of the best converters having a huge following usage from iPhone users who make use of PC and iPhone at a time. The iMazing HEIC converter comes in an easy plus user-friendly interface that doesn't need any rocket science to understand its utility. 
Moreover, if you are a Mac user, here is good news for you; the iMazing HEIC Converter can also be installed on your Mac laptops. This app is also suitable for you to preserve the (EXIF) metadata.
Thanks to the iMazing converter's 'image quality adjustable' feature — you have excessive control over the quality of the image, and through this medium, you are also able to convert images in batches.
Pros
User-friendly.

Convert Images in batches.

Control over the quality of the compressed file.

Preserves your Metadata.

Can be used on Mac/PC.
Cons
You can't stop the process of conversion.
FonePaw HEIC Converter
It is another installable converter made for your convenience, which helps you to convert your HEIC images into PNG format just like the iMazing HEIC converter. Not only is FonePaw reliable but you can convert as many images as you want.
However, sometimes this tool is unable to recognize some HEIC images. You can retry if that occurs, and get the desired image format. 
FonePaw has an old-school UI but it's highly functional and capable of performing batches of conversions.
Pros
Offline converter.

Converts HEIC files to JPG files.

Performs batches of conversions.
 Cons
Old-fashioned UI.

Unable to recognize HEIC files sometimes.
iMyFone HEIC Converter 
iMyFone is another popular HEIC converter, luckily, it is also an Offline HEIC converter. 
Unfortunately, there is no software version for mac devices, you need to have a PC to make use of this application. 
However, there are many benefits for this application for instance: iMyFone HEIC helps you to keep your metadata (EXIF) and retains your image quantity. 
Pros
Can be used by PC.

It keeps your metadata.
Cons
Can't be used by Mac users
Online HEIC to JPG Converters
Let's move forward to some of the best online converters out there. 
HEIC to JPG Online Converter
If you need simplicity in your converter — that gets the job done wonderfully, the HEIC TO JPG ONLINE converter is your way to go since it provides a clean and simple user interface without much of a hassle. Plus you can work your way out without getting actual software, just go online!
As the name suggests you can only change the file into one format. This online-based software can be accessed by any browser and simply converts your HEIC file to JPG format.
However, there is no surety that the compatibility of the image would be the same. Nevertheless, the converted images can still be used in social media and other platforms.
Pros
Decent conversion speed.

Easy to use.
Cons
Can only convert files to JPG format.

You can't customize the output quality.

Some HEIC files might not be converted.
Aconvert HEIC Converter Online
It's an online converter that enables you to get your files in JPG and some other formats as well. One of its prominent features is that it provides a URL link for the image you want to convert. 
You simply have to upload the picture on the cloud, choose the format you want to get your image converted in and you are good to go.
It's an amazing online-based converter but you have to endure loads of ads on this webpage.
Pros
Provides a URL address for the converted image.

You can convert your file into many different formats; PNG, JPG, and many more.
Cons
Time-consuming than others. 

Filled with ads.
Conclusion
The Internet is full of a variety of HEIC converters and if you are an iPhone user you can utilize these tools for your convenience. That being said, there are HEIC converters for windows and Mac both, you can choose either depending on your device's OS.
With the HEIC converters mentioned above, you can potentially pick up any desired image format you want to obtain. Almost all these image converters will provide you with quality images, and are conveniently quick so you perform fast batch conversions and save up most of your time. 
Follow Techiemag for more!