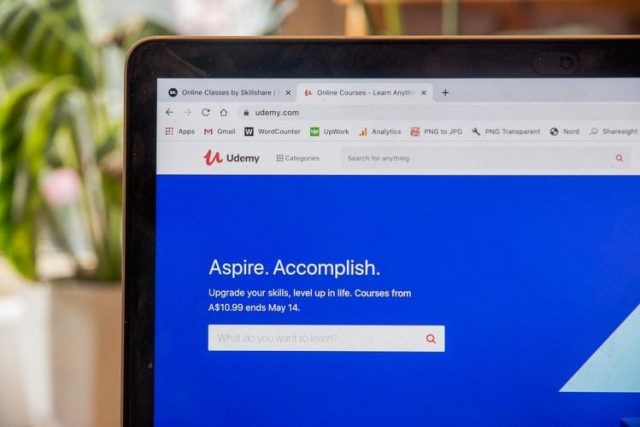 Learning a skill always pays off. It might help you calm your nerves or get the promotion you've been eyeing for a while. Or you might acquire a rare valuable skill like a CPR certification through an online course, to help your CV stand out in the crowd and get you that dream job. With all the benefits it has to offer, you might want to get working on honing those skills this summer. 
With schools closed and people preferring to minimize contact with other people over the fear of contracting a life-threatening disease, using resources available online is the best course of action and we have the perfect list of apps to get you started.
Duolingo
If you're planning on learning another language, then Duolingo is the perfect companion for you. It offers a wide range of languages that you can study so you'll most probably be able to find whichever language it is that you're into. The simple short exercises that they have will give you the daily practice you need to master the language and ensure you revise your vocabulary every day.
Driving Theory Test 4 in 1 Kit
Some states may have reopened but we're not out of the danger yet which is why, taking the car to the road to learn driving is not the best idea. However, that doesn't mean you should have to wait any longer than you have to to get your license. With this app you can polish your knowledge on driving theory so when testing starts again, you'll be ready. 
Simply
Piano
Learning to play a musical instrument can seem intimidating and if it's the piano you seek to gain command over get ready to get the jitters. With Simply Piano however, you can get started in no time. It gives you exercises to do every day so you get ample practice and since it gives you feedback on your playing using the microphone on the phone to listen in, you know exactly how well you're doing. Pair it with a high-speed internet like Spectrum Silver package and you'll know it all in real time! Pretty cool, right? That's not all. The best thing about the app is its vast library. You'll be able to find all the songs you love, from simple to complex, and learn to play them. Amazing, right?
Yousician
Don't like the piano? Well, you can try learning to play a guitar instead. With short lessons to get your started you'll be able to play your favorite tunes in no time. And, just like Simply Piano, you get feedback on your performance so you can correct your technique as you play. So, go ahead and get jamming. You're sure to prove a great company to have when you head out with your friends and play.
Anchor
Everybody is a blogger these days. Some prefer to share their thoughts by writing, others by making a video or podcasts. For those that want to start their own podcasts, this is the app to have. It helps you learn all the skills essential to making podcasts, from recording to editing and publishing them. You'll be able to add soundtracks and know just where to post them to get your word out. What's more, this app also gives your insight on your audience. With this data, you'll know exactly where you stand. 
Mimo
With the rate at which the world is progressing, coding is bound to become an essential skill for survival. Kids and adults alike are spending their free time to acquire this skill and with Mimo it can become easy and interesting. The app challenges you to learn more without dumbing down the content and ensuring it doesn't become overly dry. So go ahead, and download the app. Given the variety of languages it supports, you'll be able to learn whichever coding language you prefer. 
Blinkist
Developing a reading habit takes time. If you promised yourself to become an avid reader during the lockdown but finding yourself getting lazy in reading the book in front of you, try Blinkist. This app condenses non-fiction books to a 15 minute audiobook that you can listen to. This might help you jump the boring first few chapters to get to the juicy bits, or at least help you learn what all the conversation is surrounding it. 
Candide Gardening
Got a green thumb and can't wait to do some horticulture of your own? Well, then get Candide Gardening ASAP. It'll guide you on all you need to know. It'll help you identify the plants you're dealing with and provide you an archive of information detailing all there is to know about gardening. What's more, it'll connect you to people who can answers your questions. 
SketchAR
Still doubting your artistic skills, or is the pandemic that has got you down and without any inspiration? Well, then make sure to give SketchAR a try. Hold your device over the canvas your drawing on and experiment with the app's augmented reality features. It's kind of like Snapchat for art. It'll teach you how to draw various things in an exciting new way.  
Yummly
With so much time on your hands, you should definitely learn how to cook. You'll get a healthy meal out of it and it might also be the therapy you need. Yummly gives you easy recipes to try and offers you guidance through the whole process with the details it provides. The best part is though that it can help you cook with the ingredients you already have in the house. How great is that?
Steezy Studio
Dancing is a great way to relieve stress and get the much needed exercise you need, but for those with two left feet it can be a harrowing task. Well, its time you face your demons and get your feet moving to the beat! With more than 500 video classes in a myriad of dancing styles you'll be able to get your basics right so the next time you head out for a fun night out, you won't be stuck sitting in a corner at the club. 
So, there you go. We're sure that you'll be able to find an app for the skill you're looking forward to acquire. From playing a musical instrument to coding, we have it all.