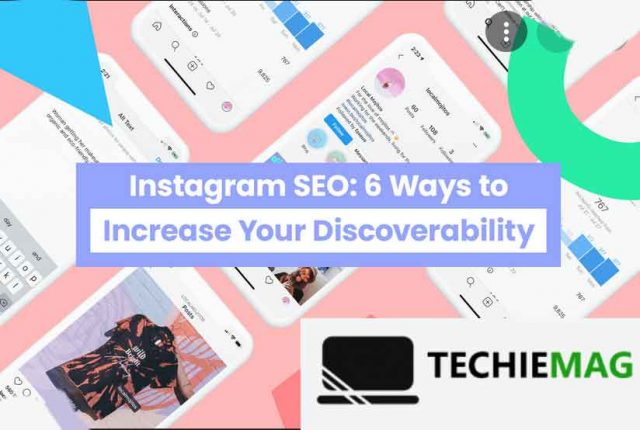 If you are using Instagram for marketing your business, firstly, you will have to boost your followings. The more people you reach, the higher your chances will become for driving sales. Thus, standing in the current work, Instagram optimization must be done. For boosting your followers, you need to get discovered on Instagram. Instagram SEO is different from the regular Google SEO. So, it is a bit tricker for getting used to. This article will provide you with everything you need to know for increasing your discoverability by applying Instagram SEO.
Optimize your Instagram Profile:
There is not much difference between the search function of Instagram and Google. Based on your search, Instagram will show you the most relevant profiles. The search results are based on multiple components like the accounts you follow and with whom you are connected.
On Instagram, the posts that you like influence determining relevance. Additionally, a vital role is also played by the keywords. You can easily avail of the most effective SEO service New York to get proper guidance for optimizing your profile in the best possible way.
So, it is always a good idea to optimize the Instagram profile with keywords. It makes sure that your profile gets displayed in case of relevant searches. Include a primary keyword in your username and name. Add secondary keywords in your bio for describing your business.
Optimize The Captions:
You can only use location tags and hashtags on the explore page of Instagram to make content search. Apart from this, Instagram recommends content that is personalized for every user based on the user's interactions and interests.
An account embedding framework is used by the Instagram Explore page algorithm. It helps in identifying accounts that are similar topically to one another. It does it by checking out the keywords incorporated in the bios, usernames, names, and captions as well.
Thus, Include relevant keywords in the descriptive captions. It increases your chance to show up on the Explore page of related users. Instagram makes use of keywords in the captions of your posts for determining what topics of interest match your Instagram account.
Hashtags Are Crucial:
On Instagram, Hashtags helps the users to discover related content. If a user searches for a specific hashtag, Instagram will show him or her all of the posts that are tagged with that said hashtag. When you tag your post with a hashtag, the post will be displayed when someone will search that specific hashtag.
Thus, it is important to tag all of your posts with hashtags that are related to the content so that you can successfully attract the correct audience. Do not stuff the caption space with hashtags. Although the limit is up to 30 hashtags, find the correct hashtag density.
Put the Alt Text to Use:
Instagram offers a feature that enables the users to input alternative text for describing the photo vividly in detail. The alt text feature was intended for helping the users having visual problems to understand the visual content of Instagram. The alt text feature reads out the description of the image to make the user understand what the photo is all about.
The alt text feature can also be utilized for boosting Instagram SEO. Incorporate keywords in your alt text for helping the Instagram algorithm to understand better what the photo contains and how it can prove to be relevant for specific users.
The alt texts are automatically generated by Instagram for the images, but make sure that you edit this portion to make it more descriptive as the auto-generated list might not be perfect. Implement a few relevant keywords as well before sharing the post.
Optimize and Track:
Similar to analyzing the impact of your day-to-day SEO efforts, it is also important to measure how much your optimization for your Instagram is paying off. For staying at the top position, regularly audit your account.
If you are having a creator profile or a business account on Instagram, a set of analytics tools will be offered to you for measuring the performance of your account. It will give you every post insight, impression, and reach.
Conclusion:
By making the above-mentioned optimizations, you can make a difference for yourself and your account. You can become a winning brand instead of just a regular businessman. Thus, the users need to boost brand awareness among the most relevant audience. Try to make most of the Instagram optimization tips for enhancing your visibility. Keep patience, have a proper plan, and kick-start your Instagram account and reach greater heights.
Follow Techiemag for more Technology News.