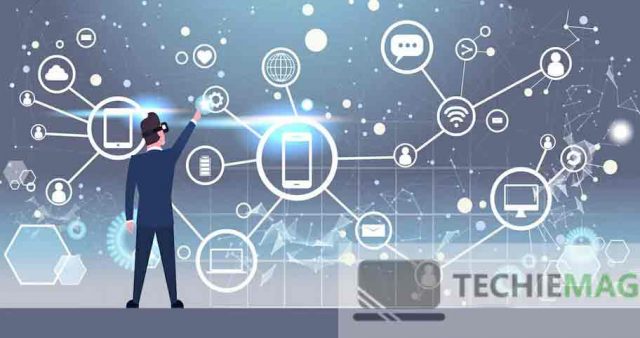 HostArmada is one of the best hosting companies in the market. However, in less than 4 years, they have created ripples in the market by providing high-quality service at low costs without sacrificing features like ease of administration or safety.
Or so it seems from the many positive HostArmada reviews. To be honest, however, it just seems too wonderful to be true, and we all know that talk is cheap.
That's why I performed my own investigation. For my HostArmada review, I dug deep into the provider's policies, pricing, and performance, as well as test its security and customer service. My claims are supported by evidence, of course.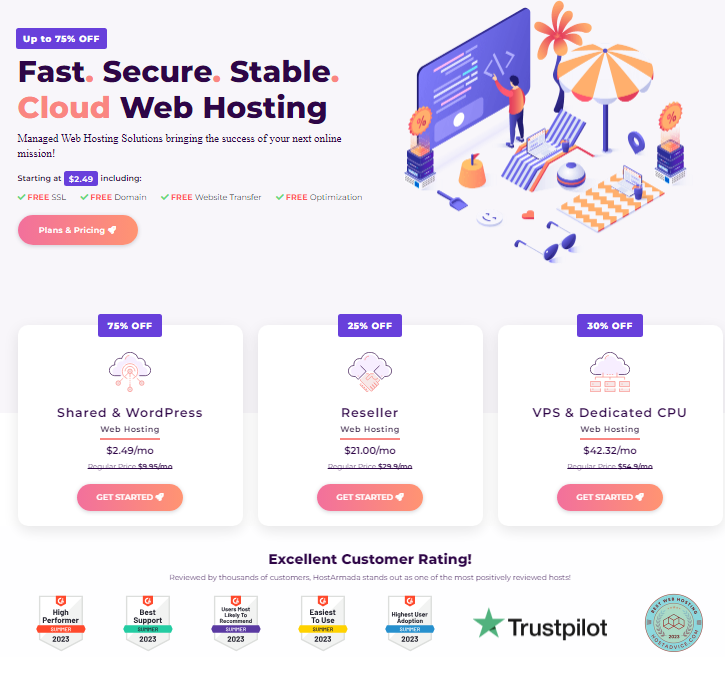 HostArmada's Benefits and Drawbacks
Pros
cPanel connectivity and a straightforward interface.
Very quick and competent in heavy traffic conditions.
Hosts in 9 different servers over the globe
Cons
Renewal costs are three times the initial rates.
LiteSpeed web servers are included in just the most-priced package.
HostArmada Pricing & plans
Shared hosting, HostArmada's most popular service, is available for as little as $2.49 per month. Virtual private server hosting and dedicated servers are also available.
Shared Hosting
Initiates and those constructing simple sites, such as bloggers and startups.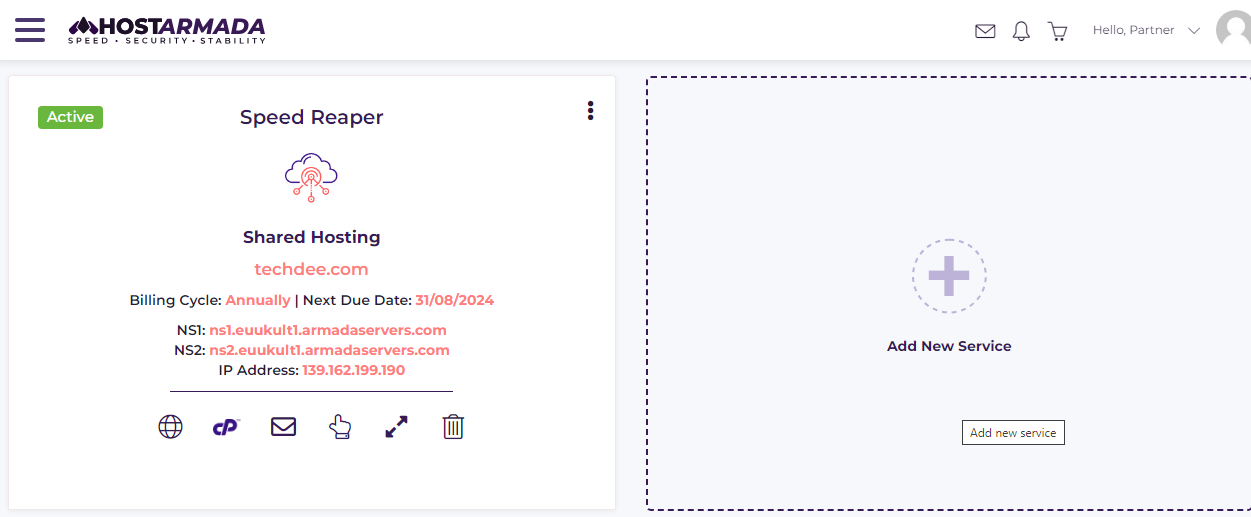 VPS Web Hosting
Optimal balance between server resources and user freedom, with superior protection and performance.
Dedicated Web Hosting
Web applications, corporations, and popular websites need extensive administrative privileges on the server.
How user-friendly is the hosting control panel?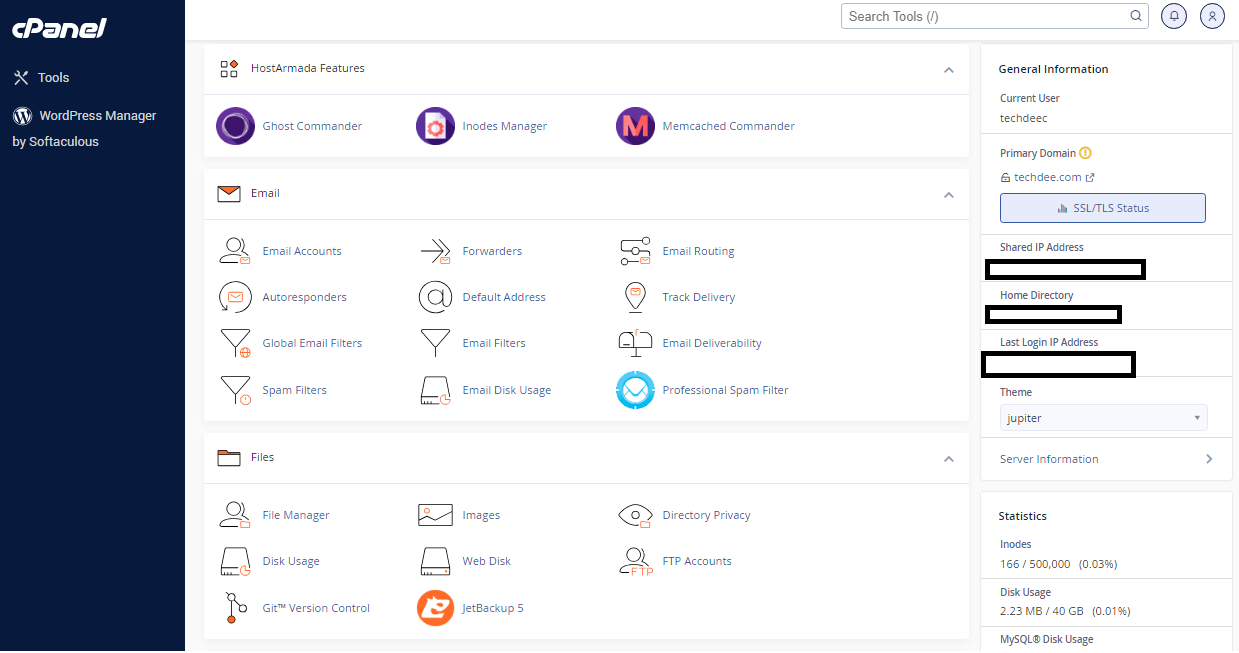 HostArmada's administration system is a hybrid of a bespoke dashboard and cPanel. The interface is easy to use and packed with important tools. Meanwhile, if you need more complex functions, cPanel is the place to go.
After signing into HostArmada, you'll be sent to the control panel. This is how it appears:
The dashboard's layout should be intuitive. Everything is simple, and HostArmada avoids clutter by providing just the essentials. Services, domains, payments, and help are the only other things you'll find here.
However, cPanel is where you should go for expansion. HostArmada's cPanel appears extremely similar to other cPanel interfaces, so cPanel veterans will feel right at home.
It's easy to use and administer, robust and comes with everything you need to launch and maintain a successful website. WordPress, email accounts, subdomains, file management, databases, and SEO tools are all accessible from here. Both inexperienced and seasoned webmasters can find useful information here.
HostArmada's unique dashboard and cPanel are a formidable combination since they are intuitive, and powerful, and provide all the tools necessary for managing a website.
How fast is HostArmada?
When it comes to speed, HostArmada is unmatched. Incredibly quick service from the provider. In addition, it is quite good at dealing with traffic. The uptime is fantastic, by the way; I forgot to mention that.
The availability and speed of HostArmada support
HostArmada was available online at all times throughout the testing and monitoring period last week. That's the ideal outcome, with no disruptions at all.
The average response time was 412ms, and it was quite consistent. It swung between around 200 and 400 milliseconds. HostArmada is now fast and trustworthy thanks to this feature.
To see whether this pattern holds up over time, I will, of course, keep a close check on this one.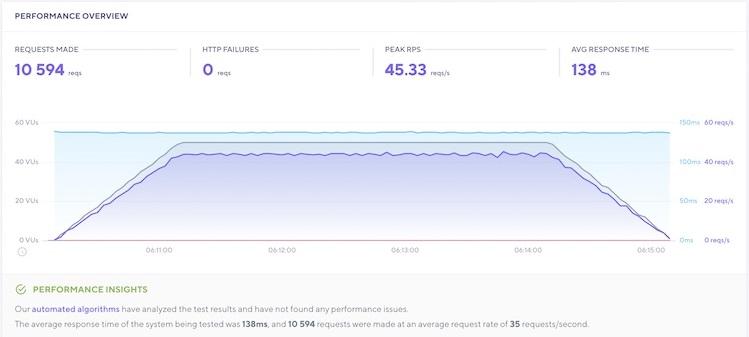 Speed test on HostArmada
Next, we put HostArmada's speed to the test by creating a dummy WordPress site. It just takes 491ms to complete the Largest Contentful Paint (LCP). If you're on the fence about how to react, I'd say anything below 600 milliseconds is fantastic. That's certainly something to be happy about.
After that, I put a fully functional WordPress site through its paces. The LCP timed out at 1.4 this time. Google still deems a load time of up to 2.5 seconds for a completed site to be excellent.
The total time it took for the webpage to load is only 1.6 seconds. HostArmada had no trouble meeting the standard of having a load time of less than three seconds, which is considered optimal for user experience.
The LiteSpeed Web Server is likely responsible for the improved speeds after I subscribed to the Speed Reaper package. The solution improves PHP efficiency and makes it possible for your site to handle thousands of requests with fewer resources.
HostArmada also has data centers throughout Europe, the United States, and Asia. As a consequence, selecting the server geographically closest to your intended audience should provide the same lightning-fast performance regardless of where they are located.
Examining the limits of HostArmada
The testing that has been conducted so far has shown that HostArmada works flawlessly. I concluded my testing by simulating 50 VUs of traffic to see how it would fare. Indeed, the vote was successful.
I want to see the number of visits (gray line) remain relatively constant such that the speed line (blue line) remains flat. That red line of failure disappears is also crucial.
With HostArmada, I was able to accomplish all of my goals. The service was able to easily and perfectly deal with the influx of traffic. Not one single complaint from me.
Overall, HostArmada has been quite successful. All one could ask for, really, is very high dependability, load speed, and traffic management capabilities.
How safe is HostArmada?
When it comes to security, HostArmada has it all covered. SSL certificates, daily backups, DDoS protection, malware scanning, and real-time server monitoring are just some of the safeguards it provides.
Here's a quick summary of
Sectigo providing free SSL for any domains hosted on their servers. This is a very common service, and it will assist your site's visitors in communicating securely with you.
Depending on your package, HostArmada provides between 7 and 21 daily backups. Even while backups are crucial, most shared hosting plans (particularly cheaper ones) only provide weekly backups. When compared to its rivals, HostArmada is clearly superior.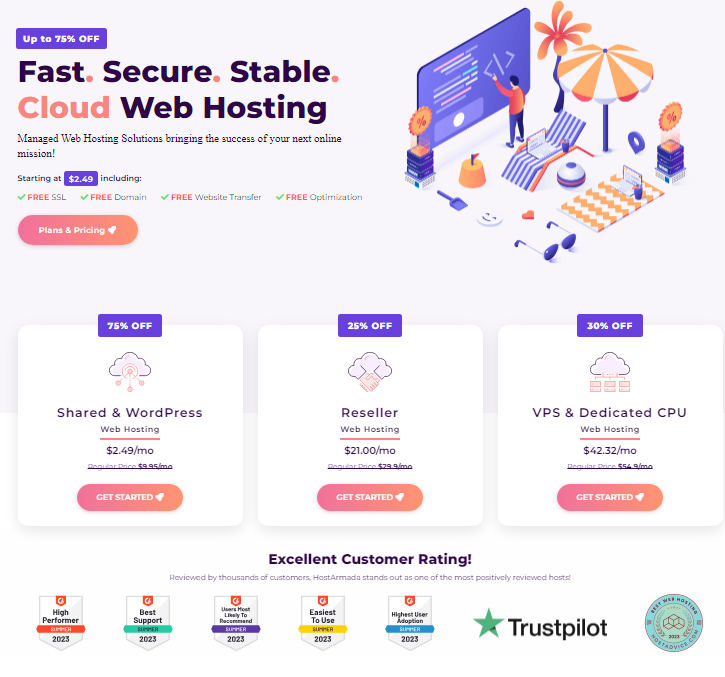 Defense against DDoS attacks, in which a large volume of traffic originates from a number of infected computers, is provided. HostArmada's server-side defenses against this kind of attack are commendable, especially the incorporation of ModSecurity, per-IP throttling, an SSL renegotiation protection service, and reCaptcha.
Web application firewalls (WAFs) are a kind of firewall that inspect, record, and disallow HTTP traffic at the application layer to stop cross-site scripting (XSS) attacks and SQL injection. This is an excellent precaution to take if you want to protect your web server from potential threats.
Using automated security scans, HostArmada looks for vulnerabilities and code-injected malware. Through cPanel, you can also conduct a security check.
Servers are monitored around the clock so that any potential security issues may be dealt with immediately.
I am quite satisfied with the comprehensive security precautions implemented by HostArmada. The features are all-encompassing and much superior to those of its rivals.
Does HostArmada have customer service that can assist me?
HostArmada's customer service is available around the clock by phone, email, and ticketing system, just like any other contemporary web host. In addition, it offers a wealth of resources in the form of a comprehensive knowledge base.
I like live chat because, despite being an introvert, I lack patience. HostArmada's customer support has been great every time I've needed to call them to see how they're doing.
Each time, the wait time was almost nonexistent since customer support always responded within seconds. The representatives were never aggressive or in a hurry to make a sale throughout the talks. Instead, they were really accommodating and patient while answering my questions. In addition, it seemed like the agents knew what they were talking about when it came to web hosting.
HostArmada also has a comprehensive knowledge base. The collection isn't quite as big as some of the competition's, but keep in mind that HostArmada is just getting started. There will likely be further articles.
Its database of information is already rather extensive even at this early stage. Articles are available on a wide variety of web hosting-related subjects, including cPanel/WHM, domains, DNS, and security.
Some of the articles caught my eye, and I read them as well. Each one was quite informative and well-written.
The support staff of HostArmada is quick, informative, and effective. It also has a very useful information base.
Final Thoughts
All things considered, our HostArmada review shows that you don't have to stick with the big names in the industry for reliable web hosting.
Here's a rundown of what it offers:
Feature
4.0★★★★☆
Increasingly important to small businesses
Pricing
★★★★☆
HostArmada is a well-priced, middle-of-the-road host, with monthly subscriptions beginning at $2.49. There isn't a lot of stuff, but what's there is useful.
Convenience of Use
★★★★☆
It utilizes a cPanel-integrated custom dashboard. Both are cutting-edge in design and easy to use.
Performance
★★★★☆
The supplier passed with flying colors. It is prompt, trustworthy, and able to gracefully deal with a plethora of traffic.
Security
★★★★☆
HostArmada contains everything you need. Free SSL, daily backups, DDoS and firewall protection, and more are all included.
Support
★★★★☆
Live chat, phone, and tickets are all available ways to contact HostArmada's staff. The service is prompt, effective, and informative.
For those just starting out or creating modest to medium-sized websites, I strongly suggest HostArmada. It functions well and has high-quality extras to boot.
Follow techiemag for more!