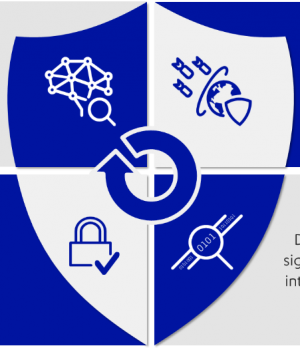 As new technological innovations develop on what seems like a daily basis, so do the avenues for cybercriminals to launch an attack on your business. Cyber attacks can disrupt and destroy your company's reputation, valuation, finances, operation, and even the staff.
Damage done by a cyber attack can be mitigated by having a prevention and response strategy in place to address it. How extensive that strategy is will determine your company's level of resilience to cyber attacks.
What is Cyber Security Resilience?
The ability of an enterprise to mitigate the damage of cybersecurity episodes is cyber resilience. A broad approach that incorporates business continuity management and cybersecurity strategies, it comprises two equal components: prevention and response. Preventative strategies often include monitoring on a continuous basis and reporting threats to the appropriate department or individual. This is the cybersecurity component of resilience. Developing a response plan is where many businesses fall short.
Why is it Important?
While some businesses manage to survive a cyber attack, others are completely destroyed. Research has indicated that as much as 60% of small businesses that are hacked are forced to shutter their doors. Even if you manage to survive, the damage done by cybercriminals can be immense. In addition to the possible direct financial loss posed, a cyber attack can erode the trust of your customers and result in fines for failing to keep their information safe. Your company will also have to scramble to address whatever internal damage was done to the operation of your business as well as establishing new IT security protocols to prevent another breach.
Establishing a Strategy
The first step in establishing an effective resilience strategy is to assess where your company might be at risk of exposure. There are several areas where hackers can access your systems and characterizing your business processes will help you identify which areas in which you are vulnerable. Look first at what kind of data is used in your business and where it is stored. You can then identify potential threats such as:
Disruption of productivity

Data leakage

Misuse of information

Unauthorized access

Data loss

Disruption of service to customers
This sort of regular risk assessment is a fundamental part of resilience. It should become a fundamental part of every business operation as well. Regular review of these areas is the best way to head off a cyber breach before it happens. Now that you have assessed where your vulnerability lies, you can put an incident response plan into place. This will identify actions to be taken to contain the damage and eliminate the weakness in the event that an incident happens.
Quick response to a data breach will diminish areas of exploitation, reduce loss and restore operating processes. Follow the steps outlined below to create an incident response team.
Develop policies and a communication plan for cyber attacks.

Outline the responsibilities and roles of incident response team members.

Determine the criteria for implementation of the team.

Gather evidence and assess the incident.

Implement the established mitigation and containment techniques like updating security software or patching existing systems.

Remove the possibility of a further breach and restore systems to a state for proper operation.

Review the steps taken and look for areas where your team can improve.
Final Thoughts
The key to effective resilience is vigilance. Cybercriminals will not stop coming for your assets, never let down your guard. You have worked hard to build your business, do not let hackers steal it from you.
Follow Techiemag for more informative articles.