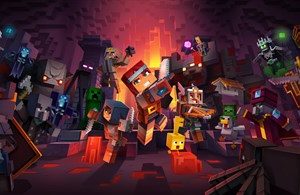 The current pandemic has created unwanted boredom between those once bonded together in face-to-face interaction. There are fewer live interactions and meet-ups compared to before the pandemic hit the world. If you miss having fun with your friends, then don't worry. In the lockdown days, when you are not permitted to go out but miss your best friends, it is time to go online. Your friends and the excitement are just a few clicks away. After you are bored with routine chores and want a break just like you used to have on pre-pandemic weekends, you can enjoy online fun. 
Online games are a growing trend, and if you are a gaming freak, here is a list of the top online games available for enthusiastic gamers. 
10 Best Online Games To Play:
1. Words with Friends 2: 
The name of the game itself is representative of the gameplay. It is a game that tests your vocabulary. While you can be on one side, the player on the other side can be your parents, an aunt or uncle you love, a cousin or a friend, and even a coworker who used to sit at the desk beside you. The challenge includes unscrambling the words. The one who creates the maximum words while unscrambling turns out to be the best. 
2. Best Fiends Stars: 
The puzzle fun is out of the puzzle manuals, pages, and pens. You can continue with the fun beyond this manual experience. Share your expertise with your friends and try playing the puzzles online with Best Friends Stars. Match or blast your way through the most dangerous zones by collecting incredible players. Ask your friends to assist you while collecting the treasures and the stars. 
3.Fortnite: 
If you are a massive fan of family-friendly battle royale games, then you cannot miss the thrill of Fortnite. It is Epic's creation where millions of gamers enter the gaming zone to win Victory Royale. There is a wide array of challenges lying ahead. The thrill is that no two days in the game are the same. Every day there is more to experience differently. 
4.Solitaire:
Solitaire is a fantastic puzzle game with a remarkable history. The game originated in Germany and was first documented in the royal gamebook Das neue Königliche L'Hombre-Spiel in 1788. Solitaire (sometimes known as Klondike Solitaire) is a one-player card game that may be played either on a machine or with a regular deck of card games. The traditional Solitaire game may appear complex initially, but you'll get the feel of it, it's simple and quick. Many Solitaire games may be played on lesser surfaces than a card table. Others need a bigger playing surface, and these games are frequently played on the floor or on a bedspread.
5. Minecraft: 
It is just the best choice that has users in all parts of the world. The people of different ages and walks of life are part of the Minecraft thrill. You can enjoy this game with eight of your online friends. There is an open option to build whatever you like. The only essential is to be creative. Minecraft has even turned many young minds into construction creatives.
6.NBA 2k20: 
For those who cannot be a part of the live NBA experience now, there is a chance to feel like being a part of it by playing one of the top sports games that even carries the exact name of NBA. You can win the seasons and become an online star among your friends. There is no age restriction, so if you are a young gamer with in-depth knowledge about the NBA, things can change. You can either play in Vs. Mode or play as a single team with your friends against the adversaries. 
7. Decurse:
Move across the great lands and see if you are able enough to fight the curse and reverse it. This game can be played through Facebook. It allows you to connect with your friends through FB. It is even possible to make new in-game friends. The game becomes real fun after being a part of the clubhouse and earning club points to achieve some high ranks on the leaderboard. 
8.Sea of Thieves:
 Pirate adventures are always thrilling. There are several PC and Android games based on the same theme. In the lockdown, enjoy the pirate world by sailing across the Sea of Thieves. It is a multiplayer game that permits you to hunt through the various spots to reach out for treasure. You will come across skeletal hoards and even tall tales all through the gameplay. 
9.Pokemon Go: 
This is a kind of virtual reality game where you have to find pokemon. These pokemon are there close to you, but you are unaware. The gameplay not only keeps you busy but also helps you interact with your friends.
10. Mario Kart Tour:
Our childhood Nintendo friend Mario is back with his princess. You can get hold of your favorite Mario characters and then toss them into the go-kart. There are adventures on the land, underwater, and in the air waiting for you and your friends. You can even enjoy the Android version. 
Follow Techiemag for more!