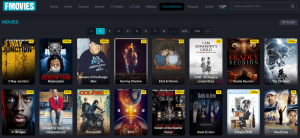 Star Wars is a franchise that's still taken hold of the world decades after its release in the theatres. Young or old, people are huge fans of the franchise and continue to find themselves mesmerized by the movies and TV shows. Hence, you can't help but feel drawn to it. And if you haven't then we recommend you to catch up on Star Wars movies in order to watch so that you can enjoy every bit of this mind-blowing franchise.
If you're a Star Wars fan, just like everyone else, you can appreciate Star Wars through a massive offering of several apps for Android and iPhone. Everything starting from comic books to games, and more is accessible on the Play Store and App Store, providing a great opportunity to Star War fans.
So, let's take a look at these excellent mobile apps to make the most of your Star Wars obsession.
Star Wars
To embark on an exclusive trip into a galaxy far away, we cannot find a better way to do that than the Star Wars official app itself. The franchise certainly didn't take any chances while getting it developed. For a Star Wars fanatic, the app is like an open door into a world of their own. 
The app offers unique interfaces and we're sure you can get at least two of them. The dark side, light side, or even droid. Each interface comes with its own set of design, sound and animations. It also offers a futuristic AR app with 3D characters and ships. You can even opt for AR quizzes. 
If you're a fan of selfies, you can take a bunch of them in the photo booth with Han Solo's carbon freeze and a variety of costumes. Play with a lightsaber, learn with Yoda, and find your favourite quotes and whatnot. Knock yourself out.
Disney+
Disney+ houses a number of TV shows and practically every movie from the Star Wars franchise. You can stream any movie or TV series you want from Star Wars. In fact, throw a binge-watch party for your fellow fanatics. Disney+ is reliable for providing one of the best streaming experiences.
It features The Mandalorian and a bunch of other Star Wars shows like The Book of Boba Fett, Star Wars: Obi-Wan Kenobi, and many upcoming shows like The Acolyte, Ahsoka! Disney+ is compatible with any device you own, either Android or iOS. Pair your Disney+ with gadgets like Apple TV, Amazon's Fire TV or Roku to get the best of both worlds.
Compared to Netflix, Disney+ prices are much more reasonable and come with multiple perks. It also includes content by Marvel, National Geographic, Pixar and others. 
Star Wars Quiz Apps
If you'd like to test your knowledge of Star Wars, what better way than to rely on a quiz? This Star Wars trivia consists of the first seven episodes of the franchise, so you better prepare yourself. Apart from answering questions, you'd be required to participate in many challenges to build a decent score.
However, the app doesn't cater to the latest TV shows or movies, so you can test your knowledge to a certain extent. Perhaps you can rely on online quizzes to keep you on your toes so you don't forget. 
Star Wars: Card Trader
Remember the good old days of collecting Pokemon cards and playing with them? Well, card trading has gone digital now. With Star Wars: Card Trader, you can have access to tons of cards and the best part? Your mom won't even get mad at you for leaving them lying around all over the room!
The app contains a variety of cards from most Star Wars TV series. So you can collect characters, vehicles, locations and anything you'd like from the franchise. The app also introduces new cards every single day. You can trade up to 18 cards with your friends. 
Star Wars Studio FX App
Using this app, you get to recreate your favourite scenes from the franchise using action figures, playsets and vehicles. All you have to do is start the Star Wars Studio FX app, choose a special effect that'd suit your scene and tap on record. Before you know it, a video will be recorded based on the selections you made.  
For instance, you can make a video of your friend having a go with a lightsaber. Just ensure you save your clips on the phone before exiting the app, so that your masterpiece can still be found on your phone later on. 
Apart from your action figures, the app allows you to get your hands on in-game stuff that is exclusively owned by Star Wars. Best of all, you can unlock more and more rewards by playing. 
Star Wars: Galaxy of Heroes
Star Wars: Galaxy of Heroes stands out from the crowd in a popular universe of Star Wars games. In this game, for a battle, you must pick either the dark side to fight the light side or vice versa. With nearly 140 various characters to decide from, you'll have a great time. 
As long as you act smartly, you can win bag a win for yourself. A Star Wars like this lets you battle against others in a number of choices like Squad Tournaments, Squad Cantina Battles, and many others using bombastic battle moves that'll guarantee a win for you if you manage to keep up your defenses. 
Wallpaper Apps
Don't forget to download a Star Wars wallpaper app for some Star Wars tailored personalization. As you would have thought, the iOS app offers a vast variety of Star Wars wallpaper for your iPad or iPhone. A unique wallpaper is regularly added to the app, so every Star Wars fan will discover something they love. 
Final Giveaway
As you have read above, there are several apps you can download if you're a Star Wars fan. You can customize your wallpaper by downloading wallpaper apps. Besides that, you can get to the next level by downloading apps like Star Wars Studio FX App to create your battles.
Follow Techiemag for more!