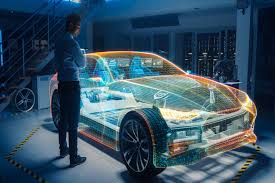 In the modern world, car sharing is becoming an increasingly popular service. It is a convenient way for customers to rent a car for a short period, paying only for the actual time of use. As car sharing gains popularity, companies that provide this service need to look for new ways to manage and optimize their business. Corporate car sharing software is an excellent option for companies to keep their work under control, streamline processes, and provide better service to their customers. In this article, you will learn why car sharing companies need a CRM system and what its advantages are.
Why Car Rental and Car Sharing Services Need CRM
As the number of customers using car-sharing services increases, so does the volume of work with their data. It's important to process incoming requests in a timely manner to eliminate delays and avoid customer dissatisfaction. Software provides companies with an efficient way to organize customer data in a centralized system. Business owners can quickly and easily handle requests, track data on registered users and the vehicles they use, view payment histories and past rented vehicles for each customer. In the future, this data can be used to develop more personalized marketing campaigns and to forecast the needs of future customers.
With a comprehensive understanding of each customer and notes on their actions, car-sharing business owners will always be aware of any potential issues they may encounter when dealing with that person. Corporate car sharing software includes analytics and reporting functions, which means owners can save on additional programs, and managers can always know which vehicles are in use and which are not.
Benefits of CRM systems for car sharing companies
A CRM system has many advantages that make it an indispensable tool for car sharing businesses:
Increased efficiency.

Since all customer data is stored in one place rather than spread across multiple platforms, access to information becomes much easier. Managers will be able to process incoming requests faster.

Improved customer service.

The presence of detailed records for each individual profile allows employees working with customers to better understand their needs. This means an even higher level of service can be provided.

High level of security.

Personal customer data, as well as confidential information about the company, is stored in encrypted form. Thanks to this, the car sharing system is protected from possible cyber attacks.

Increased profitability.

By analyzing car usage patterns among customers using detailed reports, car-sharing companies can identify opportunities for increasing profitability.

Process optimization.

The program helps automate most of the processes that were previously performed manually. This not only speeds up work but also minimizes the number of errors.

Scaling.

Thanks to the availability of automatic functions and the ability to download the application on a phone, company owners can plan to expand the company and its services even during periods of peak demand.
What does car sharing software usually include?
Invoicing

in just a couple of clicks, which speeds up work and reduces the risk of making mistakes.

Location mapping.

Built-in telematics allows you to monitor the car's location, speed, and even fuel level.

Fine management.

You will always be aware of your clients' accidents.

Real-time availability report

accessible from any device thanks to cloud-based solutions. You can quickly respond to emergencies.

Inventory and service management

allows you to control and maintain optimal service levels and ensures clarity in financing.

Tracking car expenses.

You can plan expenses and respond promptly in case of breakdowns.

Electronic signatures and contract management

help analyze

business

profitability and employee efficiency.
How to choose the best car-sharing software
When choosing corporate car sharing software, it is necessary to take into account several factors. Firstly, reliability is important. You will be loading and storing a lot of confidential information in the system, so find out what encryption methods the program uses. You should also pay attention to ease of use and performance – whether you or your employees need training, or whether someone without experience can easily understand the program. Then, pay attention to the visual design of the software – determine the stability and correctness of operation, clarity of display of interface elements, speed and smoothness of loading, and stability when the internet connection is unstable. It is also important to find out how much memory is required for loading so that each client can use the application regardless of the device they have.
You should also find out how the customer support service works. This is very important because if you encounter problems with the system in the future, you will always be able to quickly and effectively resolve them. Finally, find out the cost of the software. Take into account not only the initial development and installation costs but also subsequent subscription fees.
Conclusion
Car-sharing service is becoming increasingly popular among those who are looking for an alternative to traditional car rental. Therefore, company owners need a professional system to manage their business. Special software for car sharing allows companies to track all processes, from managing the fleet to working with customers. The benefits offered by the system are indisputable when it comes to efficient regulation of business operations. With its help, most manual processes can be automated, thereby reducing the number of possible errors. When choosing such software, pay attention to its performance, user-friendly interface, clarity of display elements, professionalism of customer support, and cost.
Follow techiemag for more!