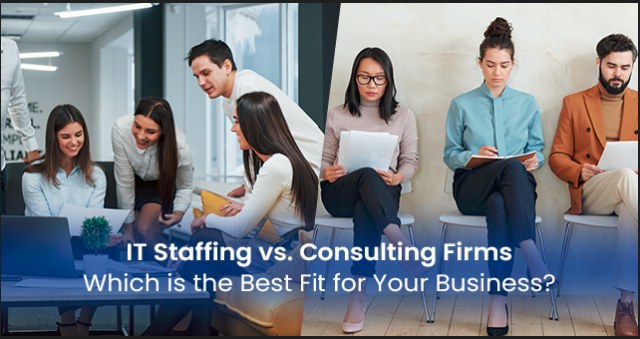 Businesses sometimes find themselves choosing between IT staffing and consulting organizations when looking to hire Consultants for technologies like Cisco, Linux, Desktop, Sharepoint, VMware, Okta, etc. Understanding which choice best fits your company is crucial because both have benefits and drawbacks. The distinctions between IT staffing and consulting services and the advantages they can provide for your company will be covered in this article.
Understanding IT Staffing and Consulting Firms
Businesses can get IT talent from both IT staffing and consultancy firms. However, the nature of the services they provide separates the two in the most significant way. They can hire IT personnel temporarily or permanently through IT staffing companies. They often have a pool of IT specialists they can use to meet the unique requirements of their customers. IT consulting companies, on the other hand, offer strategic counsel and direction on IT-related projects. These businesses collaborate with their clients to examine their current IT infrastructure, pinpoint areas for development, and create solutions to those issues.
When to Choose IT Staffing
IT staffing is a great alternative for companies that require IT talent for a brief term. IT staffing is a productive technique to find the talent you need if a project needs more personnel. It is especially true if you need project-based staffing that requires the unique industry expertise or experience your current team needs to gain.
When to Choose IT Consulting
Consulting in this field is ideal if you are searching for long-term solutions to your IT problems. Consulting companies can help you discover the areas where your IT infrastructure needs to be improved and can advise you on the best option for your company. They also help you develop an IT strategy that supports the aims and objectives of your organization.
IT Staffing and Consulting Firm Benefits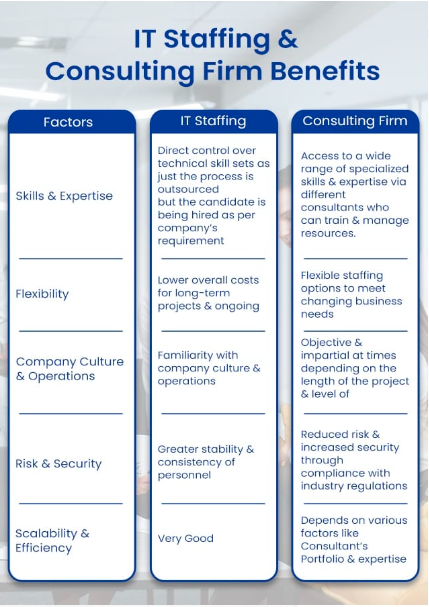 Benefits of IT Staffing
Firms that require IT talent temporarily might profit from IT staffing services in many ways. Let's dive deeper into some of these advantages.
IT staffing may be more affordable because they pay for the necessary skills. As a result, companies are released from the obligation to offer bonuses and other benefits associated with hiring full-time employees. One may make financial savings by avoiding hiring and training new employees.
Businesses that employ IT personnel benefit from flexibility since they may easily scale up or down their IT workforce as necessary. It is especially helpful for companies whose demand for IT services fluctuates.
IT employment firms concentrate on providing access to IT specialists. It shows that they have a pool of experienced workers with significant abilities. Businesses can choose candidates with specialized knowledge and competence in a certain field.
The risk exposure is lowered since IT staffing companies take on the risk of employing and terminating IT personnel. Additionally, IT staffing companies can immediately deploy replacement personnel during workforce attrition.
They can save time by outsourcing the hiring and recruiting process to IT staffing companies and concentrating on their core operations while avoiding the time-consuming process of finding and employing IT staff.
IT staffing companies often have a strict hiring procedure to ensure that they only hire the most skilled applicants. Therefore, you can be confident in hiring top-tier personnel for your project.
Benefits of Consulting Firms
Businesses can get strategic counsel and direction from consulting firms for IT-related projects. The following are some advantages of hiring an IT consultant.
IT consulting firms employ professionals with specialized knowledge and experience in various fields. They can give organizations access to this knowledge to solve complicated IT problems.
Promotes a stronger IT infrastructure while saving money with the help of IT consulting firms.
IT consulting firms can help them develop comprehensive plans supporting their objectives. They can identify operational issues and suggest effective solutions.
Businesses can optimize their IT infrastructure by using IT consulting services to increase productivity. They can decrease human resources and boost efficiency by identifying areas where processes can be updated, automated, or simplified.
They can identify possible IT risks and develop mitigation plans with the aid of IT consulting firms. They may also provide you with best practices and cutting-edge tools, reducing your chance of encountering IT-related issues.
They can benefit from the services of IT consulting firms in assessing existing IT infrastructure, identifying expansion opportunities, and receiving guidance on the newest technological trends to help them choose the technologies most suited to their requirements.
Factors to Consider When Choosing
When deciding between IT consulting firms and staffing agencies, businesses should consider numerous aspects, including:
Internal Resources
Time
Knowledge
Specific IT requirements
Budget
Considering these factors, they may make an informed choice that best satisfies their IT requirements and fits their overall goals and objectives. The success of IT-related initiatives can be significantly impacted by the choice of an IT staffing or consulting organization, which will eventually assist them in achieving their targeted results.
A Glimpse of Our Work at ScaleDesk IT
We delight in offering clients top-notch IT talent through our IT staffing and consulting services at ScaleDesk IT. The top 5% of IT technicians are filtered out as part of our stringent hiring procedure. It guarantees that we only offer organizations the best talent to assist them in achieving their IT goals.
We provide IT consulting services in addition to IT staffing. Our consulting services are intended to assist organizations in identifying their requirements and creating tailored solutions that support their aims and objectives. To comprehend our clients' difficulties, we work closely with them and offer knowledgeable advice on the newest technological trends and industry best practices.
At ScaleDesk, we are committed to giving companies inexpensive access to top-tier IT talent. We know that each organization has specific requirements, and we work to offer specialized solutions to fit those requirements. Whether you require long-term consulting services or temporary IT staffing, we can assist you.
Follow Techiemag for more!