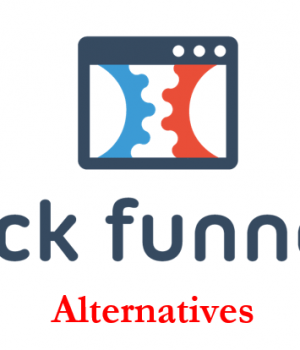 The technological marketing landscape is growing rapidly, and it's becoming easier and more affordable for marketers to execute powerful marketing campaigns.
So, what do you need to create a strong inbound marketing engine?
Firstly, you need a great website.
Your website needs to integrate landing pages, sales pages, opt-in pages, and your sales funnels.
Additionally, you will need a platform to use messaging tools like SMS, email, or push notifications to communicate with prospects and leads.
All these tools are crucial in helping you market your business and increase revenue.
Well, the good news is there are plenty of marketing platforms out there equipped with the tools to help you build and manage your online business.
If you are a marketer or an online business owner, you may have heard of the marketing platform ClickFunnels.
While ClickFunnels may be a popular and effective way of building an online business, it's certainly not the only platform out there.
To be honest, there is no one-size-fits-all solution.
To make sure you do what's right for your business, you need to do as much research as you possibly can.
But first, let's get into what ClickFunnels is all about.
What is ClickFunnels?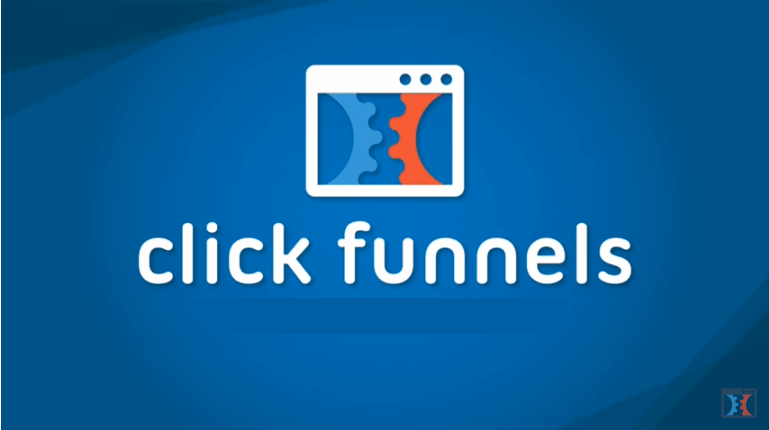 ClickFunnels is an online marketing and sales funnel builder that helps business owners create websites and sales funnels.
They offer plenty of pre-installed sale funnel options to help your business achieve its most important goal — selling your product.
ClickFunnels offers a variety of interactive tools to help users design their websites and create marketing funnels to keep the audience engaged, all whilst driving sales.
The magic of ClickFunnels is that you can do all the above without the help of developers!
This means that you can work faster, test new campaigns rapidly, and ultimately drive more revenue.
Before we delve deeper into what ClickFunnels offers, let's quickly summarise what a sales funnel is and why they are important for your business.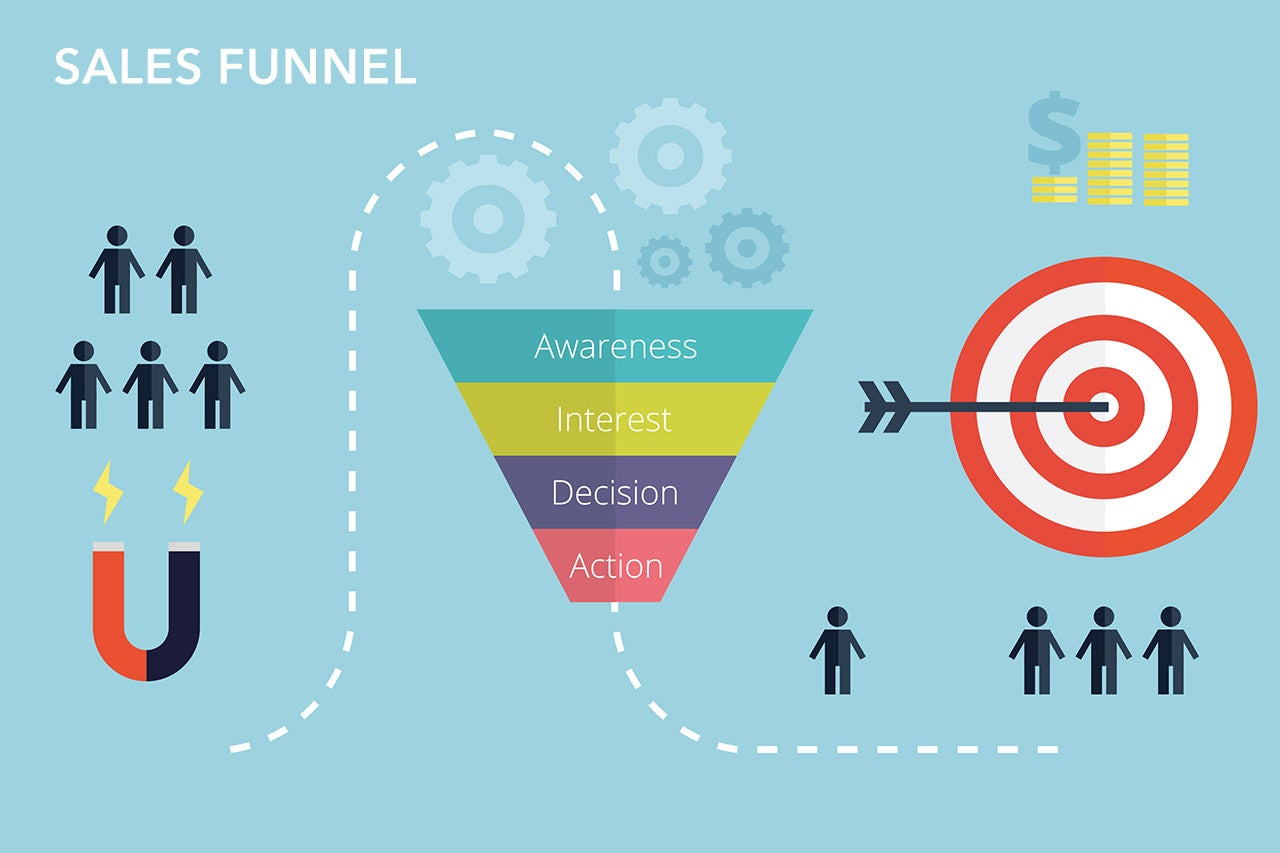 Source: Entrepreneur.com
A sales funnel is a model that illustrates every stage of the customer journey, from the time prospects learn about the brand to the moment they make a purchase.
All this is done through a series of marketing actions such as landing pages, automated emails, articles, and more.
But why are sales funnels important?
Sales funnels allow brands to visualize and gain insights into each step that prospects take on the journey to conversion.
There are four basic stages in the sales funnel:
Awareness
Interest
Desire
Action
What ClickFunnels offers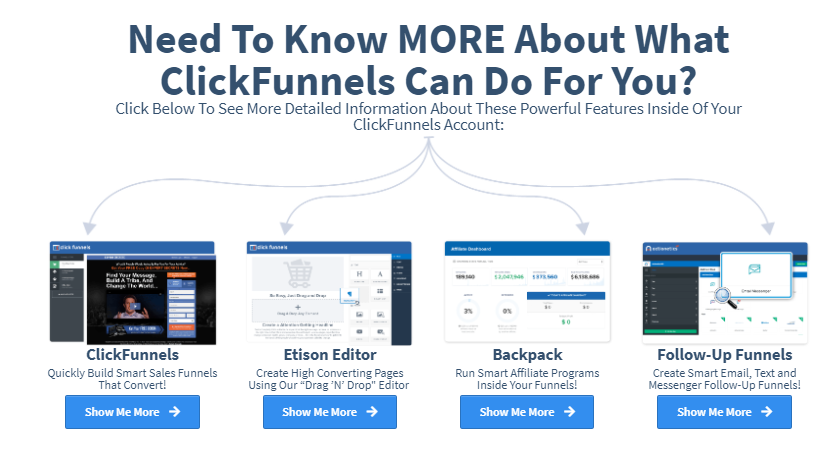 Now that we have clarified what sales funnels are, let's get into the good stuff!
When it comes to creating and running online businesses, ClickFunnels is one of the market leaders.
ClickFunnels will help users create beautiful sales pages that can convert visitors into leads and leads into long-lasting clients.
The software is very easy to use, so it is great for both new and experienced business owners.
This helps you to spend less time learning how to navigate the platform and more time on marketing and converting customers.
ClickFunnels sounds pretty great, right?
The platform may have what you need to help you convert leads but it can be a little pricey.
They have two price packages that are billed monthly.
The basic plan is great for small companies and digital marketing beginners. This plan is available at $97 p/m.
The advanced plan is designed for the more established businesses and this plan is $297 p/m.
You'll likely start with basic features and simple sales funnels. As your business grows, you'll want to upscale those features.
Here are some of the main features that ClickFunnels offers:
ClickFunnels has over 20 pre-made templates for simplified website creation.
Drag-and-drop Etison Editor
This allows users to drag-and-drop content and items to customize the look of their website.
Backpack: Affiliate program
This allows users to run smart affiliate programs inside their funnels.
Users can send follow-up messages based on their customer's preferences: email or text.
Here are other great ClickFunnels features:
Mobile optimization
Site analytics
Smart shopping carts
A/B Testing
Membership website features
Now that you know about ClickFunnels and what it has to offer, let's tell you more about 3 great alternatives to ClickFunnels that can help improve your conversion rate.
Affordable ClickFunnels Alternatives
Systeme.io

Systeme.io is an all-in-one marketing solution to build sales funnels, webinars, and memberships, run affiliate programs, sell products, and more.
Like ClickFunnels, systeme.io is fully designed for entrepreneurs and small business owners who are looking for a tool to help them manage their online business.
Systeme.io is an integrated marketing platform, so you don't have to pay for multiple platforms to get your work done.
What makes systeme.io an awesome alternative to ClickFunnels is that it shares a variety of great features with ClickFunnels.
But, it costs so much less!
They offer three different price packages plus a free 14-day trial included in every plan. No credit card details are required!
The Startup plan is $27 per month:
5000 email subscribers
Unlimited emails
Unlimited sales funnels
Unlimited blogs
Marketing automation
Affiliate programs
The Webinar plan is $47 per month:
10 000 email subscribers
Unlimited emails
Unlimited sales funnels
5 membership sites
3 evergreen webinars
A/B Testing
The Enterprise is $97 per month:
15 000 email subscribers
Unlimited emails
Unlimited sales funnels
5 custom domains
Unlimited members
One 1-on-1 coaching session
In addition to building sales funnels and providing support to different types of businesses, systeme.io also supports dropshipping businesses.
Their drag-and-drop editor is much simpler to use than ClickFunnels and offers more customization options.
As you can see, systeme.io offers a lot more than ClickFunnels at quite an affordable price.
Samcart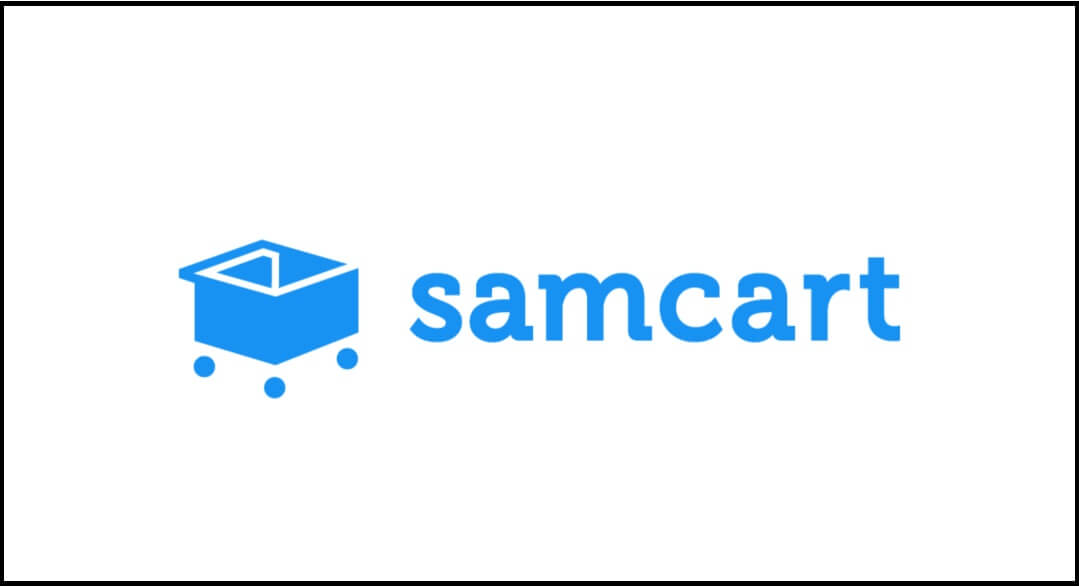 SamCart is a web-based platform that allows users to create professional shopping cart pages.
The software features:
Conversion-optimized checkout templates
One-click upsells
Subscription saver
An affiliate center
It integrates easily with many email service providers, helping businesses create sales funnels with high conversion rates.
Samcart allows you to create a fully functional check-out page in less than 30 minutes.
They have many great features such as digital downloads, smart pixel tracking, and the ability to buy with any currency.
ClickFunnels offers 3 payment plans.
The Launch plan at $49 per month
The Grow plan at $99 per month
The Scale plan available at $199 per month.
Funnelytics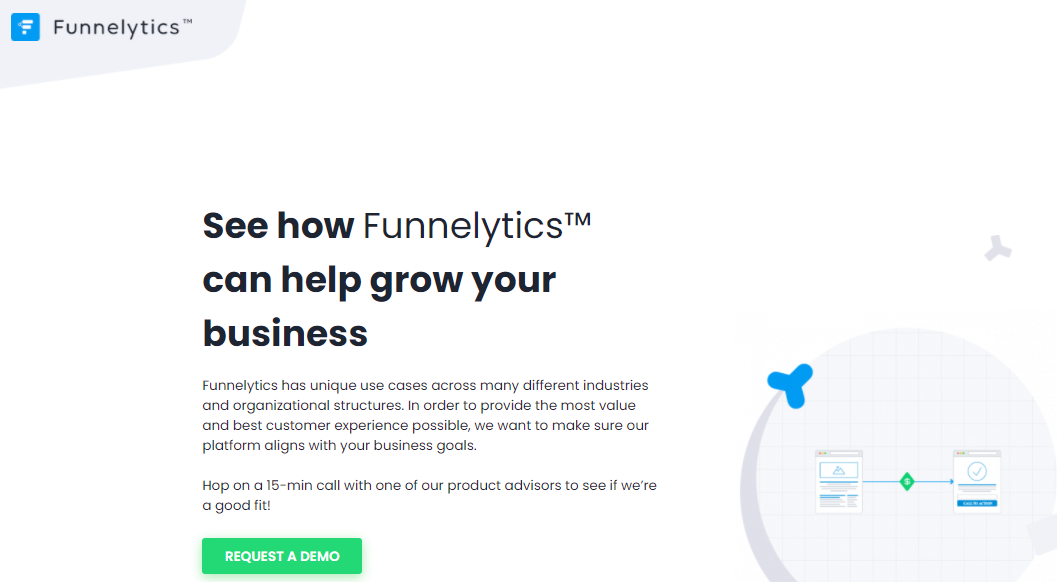 If you are a marketer or business owner looking for a platform to optimize your sales funnels, you may have heard of Funnelytics.
Funnelytics is a funnel mapping software that you can use to plan, measure, and optimize sales funnels.
Funnelytics will not only help you map your funnels with ease but also monitor how your business is performing with tracking analytics.
The platform has plenty of tools that can help you manage your sales funnels and tweak them easily.
Let's take a closer look at some of Funnelytics' main features.
The Funnelytics Vault is a collection of pre-built funnel templates from some of the biggest marketers in the world.
We are talking about Molly Pittman (Digital Marketer), Dan Henry (GetClients.com), and Sam Ovens (Consulting.com), and that is just to name a few.
Why start from scratch when you have access to high-converting templates that have been tried-and-tested by experienced marketers?
This feature is only available to Pro users.
Subscribers have access to over 50 of the best converting sales funnels of all time.
Drag-and-drop editor Canvas Builder
The drag-and-drop builder is the heart and soul of Funnelytics.
Both Pro and Basic plan users have access to this feature.
Once you are on the platform, you simply click the "Create a project" button and name your funnel.
Now, you can customize your funnel, mapping out the path your customers will take from awareness to action.
This feature is one of the lesser-known features but one of the most useful ones.
This allows you to add goals to your pages. These can be monetary goals like revenue generated or non-monetary goals such as collected subscriber emails.
These goals are visible on the platform, which makes it easy for you to track and keep up with your goals.
Some more Funnelytics features include:
Visual conversion rates
Notes and checklists
Email and ad profitability
KPI window
Purchase paths
Funnelytics offers two plans.
The free version.
Yep, that's right! This version carries no costs to users, and it's free for life!
The Pro version, on the other hand, is a monthly subscription plan.
Users can pay month to month, at $99 per month. Or, they can opt to pay $888 per year (at $74 per month).
Conclusion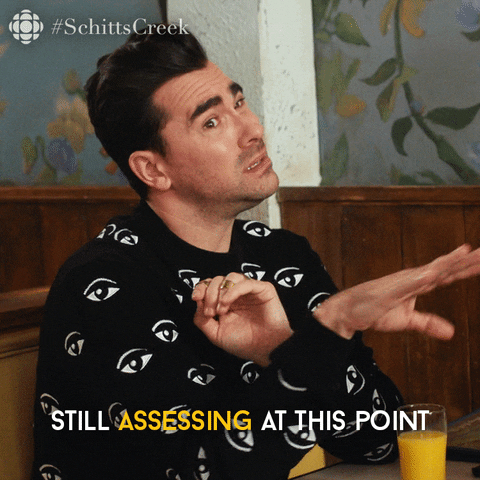 Whatever the reason you're looking for alternatives to ClickFunnels, know that there are plenty of options out there to choose from.
All these platforms have the tools you need to manage your online business, each with its own pros and cons.
When researching alternatives, try to choose a platform that will be best suited for your business and your budget.
If you are starting in the online business world, then systeme.io may be the best tool to help you create, launch, and manage your business.
It is an all-in-one marketing platform, so it has everything you need under one roof.
From creating sales funnels, managing email lists, and launching blogs, systeme.io has everything you need to help you run your online business.
Sign up for the free 14-day trial to check out what systeme.io can do for you.